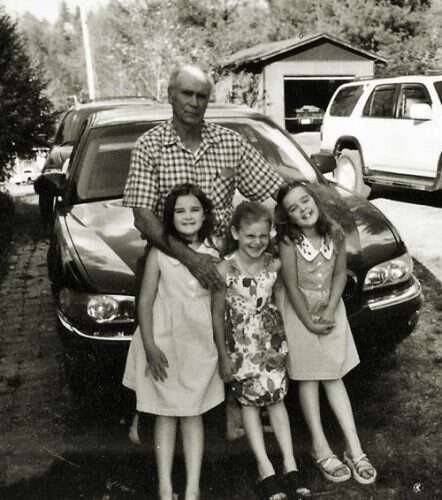 Pap and his girls (Chatter, April my niece, Chitter)
pap noun A father (in third-person reference and as a form of address). In Joseph Hall's work in the 1930's this term was more common than its alternatives. Cf pa, pappy.
1924 Spring Lydia Whaley 1 Pap let the county build a school house free on his land which was nigh enuf for 'em to go home to dinner. And he was "powerful to send us to school." 1936 LAMSAS (Swain Co NC). 1937 Hall Coll. Catons Grove TN Pap was born here in the mountains, but Mother was born in Georgia. (Elizabeth Baxter) 1956 Hall Coll. Big Bend NC Her an' pap an' Aunt Nance . . . went over to Slick Rock Branch, and they catched a big wild male hog once. (Letha Hicks) 1967 Hall Coll. Townsend TN Labe and Pap was the ones that killed the bear. (Maynard Ledbetter) 1989 Landry Smoky Mt Interviews 181 I called my father pap and [my mother] mammy. 1996 GSMNPOHP 1:4 When I was growing up Pap would always say stay away from the upper end [of Cades Cove].
Dictionary of Smoky Mountain English
—-
My brothers and I called Pap Daddy when we were growing up, but after the grandkids started coming along he quickly became Pap most of the time.
When my oldest nephew, the first grandchild, was about to be born my brother and sister-n-law asked Pap and Granny what they wanted to be called and they chose the grandparent names they wanted. I wasn't surprised when Daddy chose Pap because I'd often heard him call his own father Pap.
The picture at the top of this post is one of my favorites. I love the silliness on the girls' faces and the way Pap is holding them all in tight. Pap had a way of looking really serious, almost to the point of fierceness. I believe his mother had the same look about her and I've often seen the look on my own face when I catch a glimpse of myself in a mirror or a window reflection. That look is another reason I love this photo. Somewhere there's another one taken the same day with the only difference being my two nephews are standing where the girls are.
Tipper
Subscribe for FREE and get a daily dose of Appalachia in your inbox