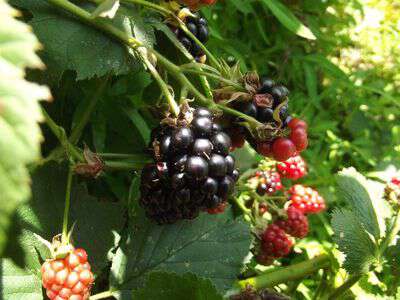 Blackberry Patch written by Glenda Council Beall
Mother's voice rises above my bawling.
"Stop pitching a fit and get your bucket."
I plant myself on the top step
bare feet refusing to move.
My dread lies coiled deep in the brambles.
He slithered out when I thrust my hand
in to grab a plump one.
Fear-prickled, I danced in terror,
then streaked home screaming.
An ominous cloud shadows the sky.
Fat raindrops plop in the yard dust.
Reprieve. Blessed reprieve.
I hope you enjoyed Glenda's poem. She's an old friend of mine. I started out as one of her employees and by the time I moved on to a new job I felt like I was her daughter. Glenda teaches writing classes at local colleges, the John C. Campbell Folk School, and in her own writing studio Writers Circle Around the Table. Glenda also writes on her own blog Writing Life Stories.
There are a lot of Glenda's poems that I love, but Blackberry Patch is one of my favorites. While I was never afraid of snakes in the blackberry patch, Granny was terrified. You should have seen the get up she wore to keep herself safe from snakes and bees. I love the image of two little dusty feet planted on the step unwilling to move and of those fat raindrops that plop in the dirt when a hard rain begins after a dry spell.