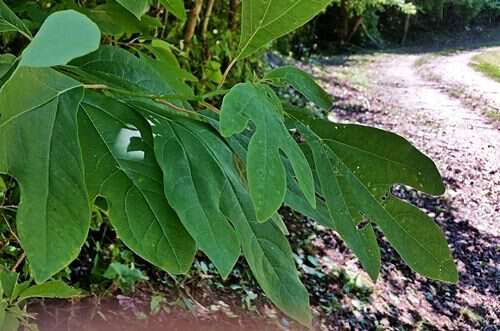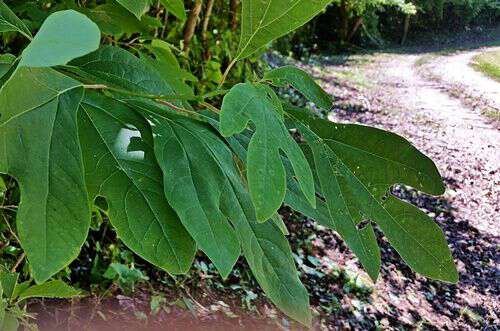 Nothing Like Sass Tea, Yellow Mountain – John Parris "Mountain Cooking"
For many an old-timer still clinging to customs of the past, it's sassafras-digging time back in the hills.
They are searching out the tender roots of a tree that in another age rated with the spices of Ormuz and Araby as a precious substance.
These are folks who take sassafras tea, or "sass" tea, as they call it, regularly, each year as a spring tonic. They will tell you that it thins the blood and prepares the body to better stand the coming heat of summer. But some of them are so foolish about the flavor of sassafras tea that they drink it not only in the spring but throughout the year.
Sassafras tea is simple to make. Just put a handful of the roots into a kettle, add a bit more water than you want tea, and boil it until it turns a nice red color. Take it straight or sweeten to taste and drink hot or iced. The same roots can be used to make tea several times before the flavor is expended.
Some folks-mostly those who didn't grow up on sassafras tea-object to the medicinal flavor of it. But they have things backward. Some medicines are flavored with sassafras, but this merely means some medicines taste of sassafras, and not that sassafras tastes of medicine.
Drinking sassafras tea was once thought to make the drinker lose weight and become thin. A balladeer of the times captured the thought in these lines:
I got so thin on sass'frus tea
I could hide behind a straw.
But nobody has ever really proved that drinking sassafras tea is a real help in losing weight, albeit old timers who make a habit of it run to leanness.
——-
Although I've never made sassafras tea myself, I have drunk a cup or two. The taste reminded me of root beer.
I've heard folks say too much sassafras tea is bad for you, I guess that points to the whole thinning your blood thing.
Tipper
Subscribe for FREE and get a daily dose of Appalachia in your inbox