Today's guest post was written by Don Casada.
Winfred Cagle's Wisdom
Don Casada, October 2018
In Tipper's 5 Things piece of October 4 (2018), she noted that Doc Watson, along with Pap and Granny, pronounced Georgia as "Georgie." That brought to mind the wonderfully expressed wisdom in the words of a man named Winfred Cagle, who from his birth until his middle teens, lived in what is now the Great Smoky Mountains National Park.
As some of Tipper's readers will know, I've spent considerable time over the last several years both wandering through and studying the Great Smoky Mountains National Park and the people who once called it home. Many of our National Parks, such as Yellowstone, Grand and Bryce Canyons, and Yosemite are places where Nature shouts in an audacious, knock you back on your heels, voice. Not so in the Smokies; this is a place where God speaks softly through creation, in hushed, holy tones.
The contrast brings to mind the Biblical story of when Elijah was fleeing Jezebel and the word of the Lord came to him (1 Kings 19:11-13):
The Lord said, "Go out and stand on the mountain in the presence of the Lord, for the Lord is about to pass by."
Then a great and powerful wind tore the mountains apart and shattered the rocks before the Lord, but the Lord was not in the wind. After the wind there was an earthquake, but the Lord was not in the earthquake. After the earthquake came a fire, but the Lord was not in the fire. And after the fire came a gentle whisper. When Elijah heard it, he pulled his cloak over his face and went out and stood at the mouth of the cave.
Then a voice said to him, "What are you doing here, Elijah?"
Unlike those other National Parks, the Great Smoky Mountains National Park was created from privately owned land. Most of it was owned by timber companies, but there were also hundreds of family-owned farms involved.
There is – in my mind – no question whatsoever but that having the land set aside for a National Park is a wonderfully fine thing. If it were not a Park, it would by now be populated by scores of gated communities.
But there's a bitter which goes with that sweet – the homes which families had carved themselves, and the communities of neighbors around those homes, were permanent casualties. I have had a defender of the eminent domain acquisition process argue to me "But they were paid the market value." My response is that there is absolutely nothing fair about fair market value when the transaction is involuntary. Mathematical relations cannot assess the value of connection to place and people.
But instead of me opining, let's hear from Winfred Cagle, who spoke to this with firsthand knowledge, and did so far more elegantly and poetically than I ever could.
Winfred grew up on Toms Branch, which empties into Deep Creek about a quarter of a mile above the branch my father grew up on, Juneywhank Branch. Both of those branches have waterfalls near or at their mouths, so the wagon roads which went up the two streams are steeply pitched near the lower end. On school day mornings, Daddy said that he, his brother Hall and the Cagle boys would "whoop" back and forth across the Deep Creek hollow to each other, then meet at the bridge at the Billy Morris place where the Cagles crossed over to the west side of the creek. They walked together the final half mile down to the Deep Creek Elementary Schoolhouse, which stood immediately east of the Deep Creek Cemetery, just outside of what is now the Park boundary line.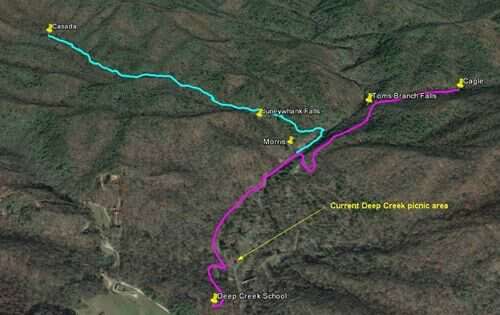 Walking routes from the Cagle and Casada places to school
The Billy Morris home was used as the residence and headquarters for the rangers assigned to Deep Creek from Park formation until around 1960. It stood near the upper end of the trailhead parking area of today.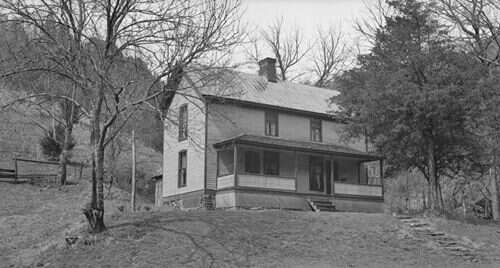 Billy Morris home at the mouth of Juneywhank Branch
(Source: Open Park Network repository)
Winfred's parents were Lee and Annie Clark Cagle. After being forced to sell their home place to the North Carolina State Park Commission in April of 1929, the Cagles moved to the Pine Log community of Bartow County, Georgia. Many of the Cagle family, including Lee and Annie and several children, remained in that area for the balance of their lives and are buried in the Mount Pleasant Baptist Church Cemetery there.
Below are passages extracted from interviews of and talks by Winfred Cagle, recorded in 1972 and 1973 by William J. Weaver, Jr. (Source: Great Smoky Mountains Park Archives, Oral History Collection). I've taken the liberty of attempting to reflect Winfred's diction. The questioner was a young man in a Boy Scout troop in late 1972.
"Question: When all the people that lived up here that had to move when they brought in the park and all that – was there much resentment by these people?
Winfred Cagle:
Plenty of it. Plenty of it. Uh, my dad might a-lived twenty-five years longer, could….should…if he coulda been allowed to have stayed on up here. Because see, he come in here, ever body – a free country. An' he come up there and there wasn't no road nor no nothin', just went up there in the woods.
They's three things that they was interested in. Was about a church, and where they'd be plenty of wood – cause that was their fuel, they had to keep warm in the winter – it was wood. And then the water. Now that was the three important things – church, wood, and water.
And they built the house, and then they cleared out, done all this hard labor, and that's hard work when you just go into the woods and dig out and cut and chop and build a house. And then work and clur the fields and ditch the land and pile the rocks and….and build you a cellar and whittle out and cut and hew and slave and work and build all your buildin's an everthing and git your fruit trees….
Now we had grapes and we had pears, we had plums, we had peaches and just about any brand that you'd grow. Elbertas and the Indian peach – the red one for picklin' and all of this. We had the open stones and clings and ever'thing. Then we had plenty of pears an' we had, apples of all brands. Just about, I guess we had, twenty-five or thirty different varieties of apples.
Well…..
Then the people was, thought they was a-livin' at home you know. Settled down an' happy and they'd go to church an' they'd work an' they'd make a livin' an' had their families an' ever'thing.
Then somebody come along and' say "you got to git out. Got to move. We're going to take this land and put it into a park."
Well, at that time people didn't know anything 'bout parks – they just knew the people lived on Deep Creek. They kinda knew what was goin' on on Deep Creek. But they didn't care what was goin' on out on Larkey 'n down in Georgie an Mexico an' all them places. They let them people tend to their business and live and be happy, and we done the same thing.
Well……
They come along an' they thought it was something awful. And in one sense-way, it was. To just drive people out of their homes like they drove the Indians out one time. An' take it over and put it into a park. Well, people didn't understand it then about preservin' our forests and the land and all of this thing. And they couldn't read in the christial bowl what one day it would amount to or nothin'. But they thought, just bein' drove out…uh…just like the Lord told Abraham when he told him to git up and go into a foreign country that I will show you. An' He says, and…and…start over.
Well, that's what we had to do. We had all of these things. We had our cattle. We had our buildings. My dad had worked I guess, uh forty years – maybe fifty years, I guess, building all these buildings and settin' out all this fruit trees and building the roads and all these other things. You see? Set up to where we could just begin to live good.
But a lot of the people…..now we had a one-armed man up here lived on Indian Creek. An there's a Needingham man who come up there and was going up the ridge with this one-armed man lookin' over the land an' kinda surveyin'. An' he kinda hinted him a price, you know, for his place. An' when he did, he flew mad an' got him one of them chestnut limbs an' he told him he'd kill him right there in the woods. An' that one-armed man, he run him about a mile and a half down that creek. He run him out of the woods. He put him out.
That's the only incident that I know that anybody just, just flew apart.
They had two banks down here. They had the old Citizen Bank here where the rock buildin' is. They's nothin' in it right now – it's this side Swain Drug store there. Well, lot of the people when they sold their land, took the money an' deposited it in that bank till they could locate 'em a place to buy. And that bank went bankrupt. The bank owners, don't you see, took the money and I reckon divided it up and declared bankruptcy.
We got two thousand dollars for our place up there. An' the fruit trees we had on it was worth that much. But at the time, in '29, two thousand dollars was lots of money. In, in, a sense-way.
Now my dad – he wasn't too bad to grumble. He always said if they's a will, they's a way. And be satisfied with what you've got and not worry about that that you've not got.
And that was, I thought, a good policy to foller."
Some notes and comments
When Winfred said "Larkey," he was referring to the Alarka Creek section of Swain County. Alarka Creek crosses under the modern day four-lane road about four miles west of downtown Bryson City. The Cagle home on Toms Branch was about the same distance north of town.
Winfred's memory was excellent and reliable. His family was, as he said, paid exactly $2,000. The Park Commission records indicated that there were just over 66 acres – 15 in cultivated hillside, 15 acres of old fields, 10 acres in pasture and 26 acres wooded. Structures noted included a six room box house, six stall barn, an apple house, other buildings, and fruit trees. The description stated that "The land is rather steep but productive and well cared for" with all the fields surrounded by good fencing.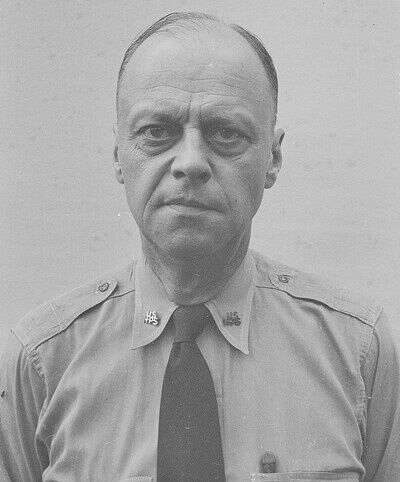 Ranger John Needham
Source: Open Park Network repository.
The "Needingham" fellow Winfred referred to being run out of the woods by a one-armed man wielding a chestnut limb was John Needham, a Park Ranger from Illinois who was placed in charge of the North Carolina side of the Park. My father had his own encounter with Mr. Needham; maybe that episode will make for another story, another time.
Citizens Bank did, indeed, fail during the Depression, and depositors lost their money. The combination of eminent domain taking followed by bank collapse doubly damned some families who had, as Winfred noted, been minding their own business until the power of eminent domain was applied. The only other bank in Bryson City, the Bryson City Bank, struggled, but survived those difficult years thanks to a cash injection by Louis Fischer, brother-in-law of bank President, Stanley Black.
I've walked over much of the Cagle property, and while some is steep, it is no more so than typical mountain land of the area. One of the most memorable features on the property is a monstrous boulder on the side of the ridge south of the home (see photo below).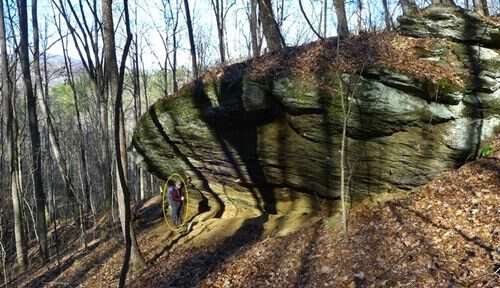 Boulder on the side of the ridge south of the Cagle place (for size reference, note author in the yellow oval at lower left of the boulder)

There's still plenty of evidence of the place where Winfred grew up having been a home – much of it vegetative. There are clusters of what we call double jonquils; they're also found at other home sites along Deep Creek, including on Juneywhank Branch, Hammer Branch, and at the Jenkins place, just across the uppermost bridge on Deep Creek. There is also periwinkle, what my father called cow lilies (a type of day lily found at several home sites on Deep Creek, including the Casada place) and mock orange. Bits of broken canning jars, the white ceramic lids used on those jars, and broken pieces of dishware can be spotted around the home. There are no chimney remains. The Park Service, in its early days, completely removed all chimney evidence from most of the homes in the Deep Creek drainage, particularly those close to roads and trails in a sadly misguided attempt to give the places an uninhabited, natural look. The Cagles did a significant amount of work leveling the area around the home, and there is evidence of sled roads above the home.

Double jonquil, periwinkle and cow lily
My favorite bit of evidence is the cellar – or can house/apple house – which was dug into the bank on the opposite side of the road from the Cagle home. There's a matching, slightly larger cellar area or on up the branch. It is also on the opposite side of the road from the old Hardy Clark (Annie Cagle's father) place, next to the parking area for the Thomas Divide trailhead. I'd encourage Tipper's readers who are in the area to drive up the gravel road along Toms Branch and see if you can spot the cellars.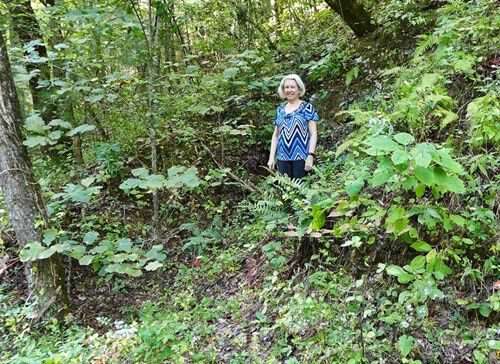 Susan Casada in the Cagle cellar /apple house
The photo doesn't give a good sense of the size of the dug out section; it is about 8 feet high at the rear and 12 feet deep. It would have been roofed and enclosed in front (at left). The road is just across a trickle branch out of the picture to the left.
In 1939, Winfred married Anna Belle Shuler, who had grown up on Galbreath Creek, just across the ridge east of Toms Branch. For a period, they lived in the Pine Log, GA community with his family, but made their way back to the place where both were born. Winfred worked for a time at Carolina Wood Turning Company – where he was working when he enlisted in the Navy during WW2. After the war, he worked for other local commercial businesses, including Riteway Cleaners and Pepsi-Cola (Toby Allman, historian of the Deep Creek Baptist Church said Winfred claimed that Coke was a cuss word). The couple lived most of the balance of their lives in a home alongside the waters of Deep Creek, a couple of miles from Winfred's birthplace. Winfred died in 1993; Anna Belle followed him in 1996. They are buried at Swain Memorial Cemetery on Deep Creek, just a whispered whoop away from the resting place of the Casada boys of Juneywhank Branch.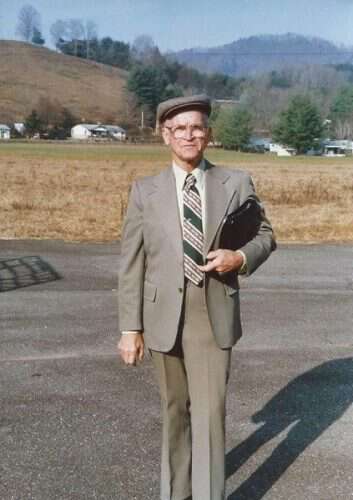 Winfred Cagle; photo taken in the parking lot of the Deep Creek Baptist Church
Source: Michael Lindsay
Winfred and Anna Belle were active members of the church where Winfred served as Deacon for many years. Quite a dapper fellow, don't you think?
Sources
NC State Park Commission records, State Archives of North Carolina
Great Smoky Mountains National Park archives (recording, photographs), with special assistance by Archivist Michael Aday
S. Census records
Swain County Register of Deeds
Personal recollections and knowledge of Delia Watkins, Toby Allman, and the author
Michael Lindsay photograph
Personal photographs
Ancestry.com
My friend and research partner, Wendy Meyers, published a piece on Winfred's remarkable mother, Annie, a few years ago in her Reflections of Olde Swain. You can read it here.
—-
I hope you enjoyed Don's piece on Winfred Cagle as much as I did. Don sent along a snippet of the interview for you to hear too.
Hearing Winfred's voice makes Don's writing even more special.
Tipper
Subscribe for FREE and get a daily dose of Appalachia in your inbox