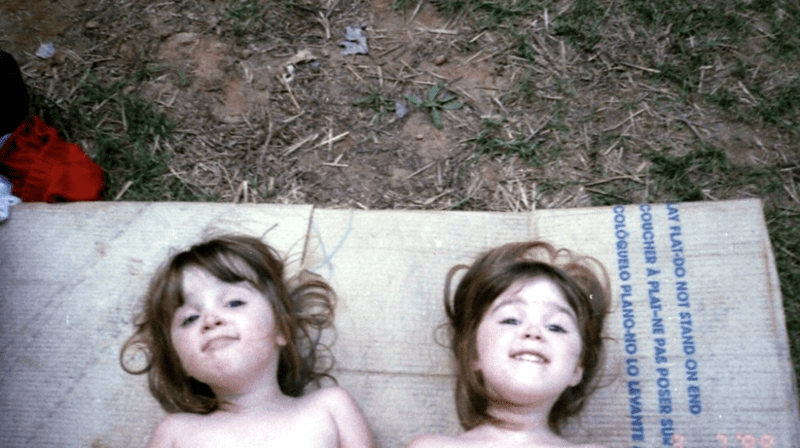 Our little hootendashers at about 3 years of age. They had just gotten their first swing set and in typical kid fashion they enjoyed the box it came in as much as they did the swings.
Back in February Blind Pig reader Suzi Phillips sent me this email:
"Hey, Tipper-How are you and the rest of the Blind Pig Gang? Hopefully, ya'll are warmer than we are! Mitchell and his brother were reminiscing about their mama today and they recall her calling them her "little hootendashers". They have no idea what it meant or if it was even a compliment (knowing those wild Phillips boys, I would reckon not lol!). We were wondering if you or any one else in Blind Pig Land had heard of it. I can't find anything on the internet, don't even know if that's the correct spelling. Sounds kind of German to me, maybe? We are up against the naked rooster on this one and hoping you can help us solve the mystery! Thank you much-Suzi"
Although I've never heard the word hootendasher I immediately liked it-sounds just like something The Deer Hunter would call Chatter and Chitter. Suzi's description of the word made me think of how we used to call the girls banshees when they were little-indicating they were sometimes mischievous wild children.
A quick google search didn't turn up much of anything. Remembering Suzi said she wasn't sure of the spelling, I decided to look through the H section of some old dictionaries.
The 1828 Webster's Dictionary had a several H entries that seemed similar to hootendasher in a sense that hootendasher could be a corruption of another word.
HOB'BLEDEHOY, n. A cant phrase for a boy at the age of puberty. (I'm thinking Mitchell and his brother were younger than puberty so this is probably a no)
HOB'GOBLIN, n. A fairy; a frightful apparition. (most all of us are familiar with this one)
HOD'DY-DODDY, n. An awkward or foolish person. (I've felt like a hoddy-doddy before have you?)
HOT'TENTOT, n. A native of the southern extremity of Africa. A savage brutal man. (this one made me think of us calling the girls banshees)
None of the entries above really fit the bill for the hootendasher search-but they are interesting words.
On Dictionary.com I came across the word hoyden:
World English Dictionary
hoiden (ˈhɔɪd ə n)
— n
a variant spelling of hoyden
'hoidenish
— adj
'hoidenishness
— n
hoyden or hoiden (ˈhɔɪd ə n)
— n
a wild boisterous girl; tomboy
[C16: perhaps from Middle Dutch heidijn heathen]
hoiden or hoiden
— n
[C16: perhaps from Middle Dutch heidijn heathen]
'hoydenish or hoiden
— adj
'hoidenish or hoiden
— adj
'hoydenishness or hoiden
— n
'hoidenishness or hoiden
— n
——————-
After reading the entry I thought ah ha! Hoydenishness that is sorta similar to hootendashers. Then I remembered-they were boys-not boisterous girls! But the website World Wide Words Investigating the English lanugage across the globe, has a whole page about the word hoyden that made me think think twice about the word hoydenishness.
World Wide Words describes Jane Austin using the word hoyden in Pride and Prejudice to describe Lydia Bennet and details other examples of the word being used to describe boisterous or tomboyish girls. But then the site goes on to note some interesting tidbits about the word:
"Hoyden is a curiosity because it once referred exclusively to men. We may now look indulgently on hoydenish young women but male hoydens were considered to be rude, ignorant, awkward or boorish. In 1593, Thomas Nashe (its first recorded user) wrote disparagingly of the hoydens of Trinity Hall at the University of Cambridge. Its members were exclusively male at the time, as they continued to be until 1977, when the college admitted its first female undergraduates.

The other oddity is that hoyden is a close relative of heathen, which is much older. Its roots lie in very early Germanic dialects and is related to heath. Heathens were literally heath-dwellers, inhabitants of open country, uncivilised and in particular unacquainted with Christianity. Hoyden is thought to have been borrowed from heiden, the Dutch equivalent of heathen from the same ancient Germanic source."
With a stretch of the imagination one could see how the descriptive hoydenishness could be morphed into hootendasher. And the fact that heathen is related to the word hoyden supports that stretch of imagination. Calling a rowdy boisterous child a heathen in a teasing manner is beyond common in western NC.
In conclusion, I don't think I answered Suzi's question about the word hootendasher-but I had a whole lot of fun trying to! I'm hoping one of you are familiar with the word and will be able to answer her question.
Tipper