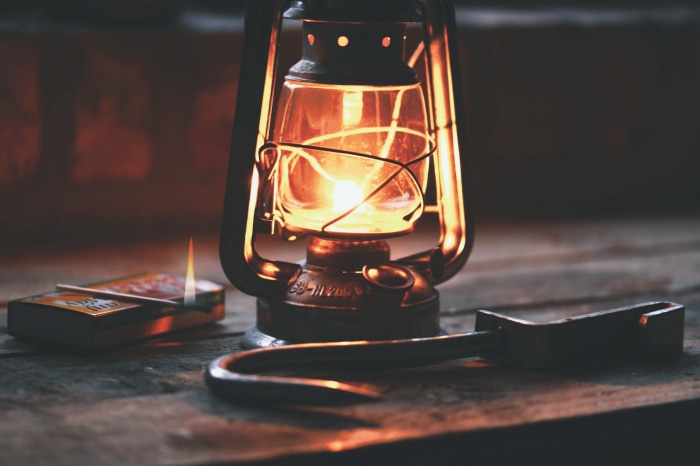 lamp oil noun Kerosene, used in lamps in former days and often in home remedies. Same as coal oil, kerosene oil.
1936 LAMSAS (Swain Co NC). 1937 Hall Coll. Mingus Creek NC Never knowed nothin' about lamps or lamp oils till I was nearly grown. (Martha Jane Crisp). 1949 Kurah Word Geog East US 31 The West Midland word for kerosene is lamp oil…in Western North Carolina and adjoining parts of Virginia it competes with kerosene. 1961 Seeman Arms of MT 35 If a thumb is bitten off by the family mule the stump is merely dipped in"lamp oil" and has a rag wrapped around it. 1969 Madden and Jones Walker Sisters 29 For a remedy [for "pneumonia fever"] her sisters put "lamp oil" (kerosene) on a woolen cloth and placed the cloth on the chest, rubbing camphorated oil on the chest to keep the lamp oil from burning. 1972 Pederson et al. LAGS (Cocke Co TN). 1986 Pederson et al. LAGS 9 of 31 (29%) of LAGS Speakers using term were from E Tenn.
—Dictionary of Smoky Mountain English
---
In my recent remedies video I mentioned that I did not know for sure what coal oil was. I guessed that it was lamp oil/kerosene and several folks commented to let me know my suspicions were correct. I should have known the Dictionary of Smoky Mountain English would have an entry for it.
Pap told me kerosene was used for various medicinal remedies when he was a boy. I said I didn't see how people treated with something so toxic kept from dying. Pap said in those days it was a totally different substance than the one we're familiar with today. He wasn't necessarily saying it was a cure all or that he thought it was something folks should do, he was just sharing one of the remedies he often seen used when he was growing up in the mountains of North Carolina.
Tipper
Subscribe for FREE and get a daily dose of Appalachia in your inbox