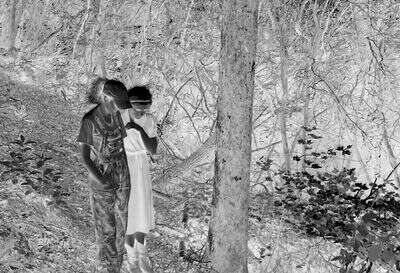 A few weeks ago the girls filmed a spooky scene from the movie Sleepy Hollow. Their class had been reading The Legend of Sleepy Hollow written by Washington Irving, and their teacher gave the students the option of writing an essay or filming a scene from the movie, Sleepy Hollow, which is based on Irving's short story.
As you might imagine, the scene turned out more humorous than scary. The girls improvised the entire dialogue which made for many uncontrolled fits of giggling and screaming. I was manning the camera and everytime we started over-they said something totally different.
I took the time to type out their 'script' since I know they're hard to understand.
——————
See that there.
That tree?
That's the tree of death.
That's what I heard.
I pass it every day on my way to school.
You know Granny says if you chop into it with an axe it'll bleed.
You think?
Probably.
I hear that its because the headless horseman stores all his head in there.
Cause he needs a head?
He ain't got one.
Riddle me this why does he never put the head on once he chops them all up and puts them in his tree?
Maybe he's saving them.
Maybe.
I don't know. Granny said, I'm… I'm curious but Granny said that if you chop into that tree and try to get to the heads that he'll come after you on the sixth day of the sixth month.
Hmm…that's weird maybe we should wait till night time and chop into it. Cause wouldn't he be like you know out at night?
He might be making his rounds, collecting his heads. We could catch him when he's not there.
Sounds like a plan. Tonight?
Let's do it.
—
It's bleeding!
What grandma said is true!
Stand back…(scream-scream).
I guess grandma was right. He's going to come after us!!
I hope you enjoyed the silliness.
Tipper