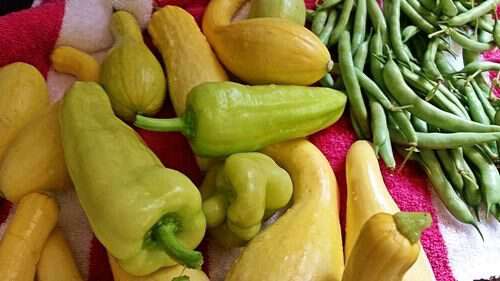 We're just beginning to enjoy the summer veggies. Our spring stuff has mostly played out with the exception of a few beets and some lettuce.
Although we didn't plant as many tomatoes this year, the ones we did plant are coming right along. We have lots of little green tomatoes that will hopefully ripen in the next two weeks or so.
Our okra is growing by leaps and bounds and should sport their first blooms in the next few days.
I have at least two tiny watermelons so starting the plants early in the greenhouse was a good decision.
I have a few other melons growing too, they are Farmer Tim's cantaloupe and Sow True Seed's Minnesota Midgets. Silly me can't remember exactly where each are planted so I'll have to wait till they ripen to figure out which is which.
My candy roaster plants aren't quite taking off like they usually do and my cucumbers seem slower than usual too. Hopefully they'll both catch up with the rest of the garden.
Tipper
Subscribe for FREE and get a daily dose of Appalachia in your inbox