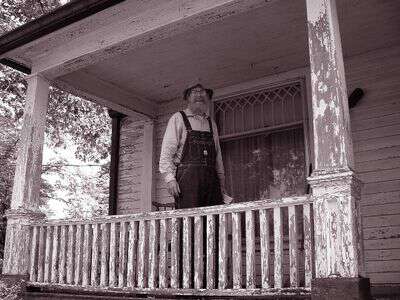 (Tom is headed for Hollywood too)
If you've been reading the Blind Pig for a good while-you may remember me and the girls were cast in a movie. Hard to believe-but its been almost exactly a year since I interviewed Bruno and Harrison about the movie "If I Had Wings To Fly."
To quote Bruno: "The movie is about a young man from a small mountain town in western North Carolina who, through his singular desire to play music, ends of up learning some things about community, culture, place, love and loneliness."
I ran into Bruno at fall festival-and got the news-me and the girls made the movie!! I was sure we'd end up on the cutting room floor-but we didn't! Even better this coming weekend-we're going to get our first sneak peak at the movie. Even better than that-you can come too if you want. The movie isn't totally finished yet-so this isn't the real premier but I can't wait to see how its all shaping up.
On Sunday October 16, 2011 at 2:00 p.m. the Henn Theater-in downtown Murphy will be showing an advanced viewing of "If I had Wings to Fly". Its open to the public-and there is no admission.
Want to find out more about the movie-jump over to the website: Kazoo Films.
Tipper
p.s. Be sure to drop back by tomorrow for another Spooky October entry.
Appalachia Through My Eyes – A series of photographs from my life in Southern Appalachia.