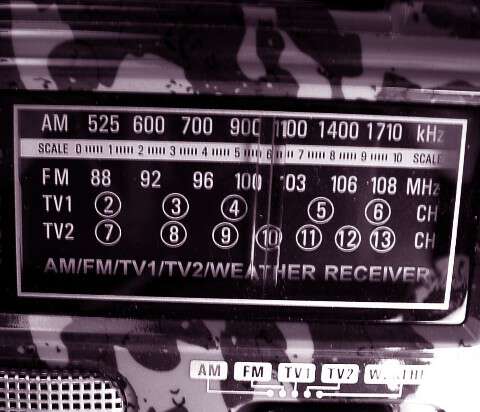 Are you a radio listener? If Chatter, Chitter, or The Deer Hunter are in my car-the radio is on and turned to some honky tonk country station. But if I'm alone, I'm listening to a cd-and if I do turn the radio on-it's usually to a news talk station.
Back in the day, as a teenager, I listened to the radio a lot-remember Casey Kasem's weekly top 40? I looked forward to the countdown all week and rarely missed it. If I was at home-I'd lay on the bed and listen to see who hit number one or if I was at Granny Gazzie's little house by the highway, my cousins and I would listen to see if our favorite song made it to the top of the charts.
This week my house has been all about the radio-strange for someone who seldom listens to it.
First up: Paul and Pap were invited to perform live on David Brose's radio show this coming Saturday. If you'd like to listen you can-the radio station streams live over the net. Go to: WYHG.
David's show "The Mountain Valley Homecoming" airs from 12:00 till 2:00pm. Paul and Pap will perform during the first hour of the show from 12-1pm. (the times mentioned are eastern standard time-so depending on where you live you may have to convert to your time zone)
Second: I was invited to be a guest on a live radio show this Sunday by Paul Ward of Saltcreek Life. Paul's promo sums it up better than I can: Tipper from "Blind Pig And The Acorn" blog joins me as co-host for a call in trivia show. We will cover her site, Appalachian heritage, and give away some prizes. Be ready to call in! The Salt Creek Life radio show starts at 6pm central time. To listen and for more details about the show go too: http://www.blogtalkradio.com/paulsw
Third: Last night I listened to the radio as one of those cousins from Granny Gazzie's did his job. Clint is anchor for the Malone Sports Network broadcast team. Last night it was all about girls basketball. Clint did such a great job announcing-I felt like I was right there on the court-wincing at the fouls, jumping to my feet with the crowd and urging my team on to win.
If you have time this weekend I hope you'll listen in to David Brose's show-I know Pap and Paul will do a great job. I also hope you'll listen to Paul Ward's great show-who knows how good I'll do-but if nothing else I'm sure the contrast between my Appalachian accent and Paul's mid-west one will be interesting.
So are you a radio listener?
Tipper