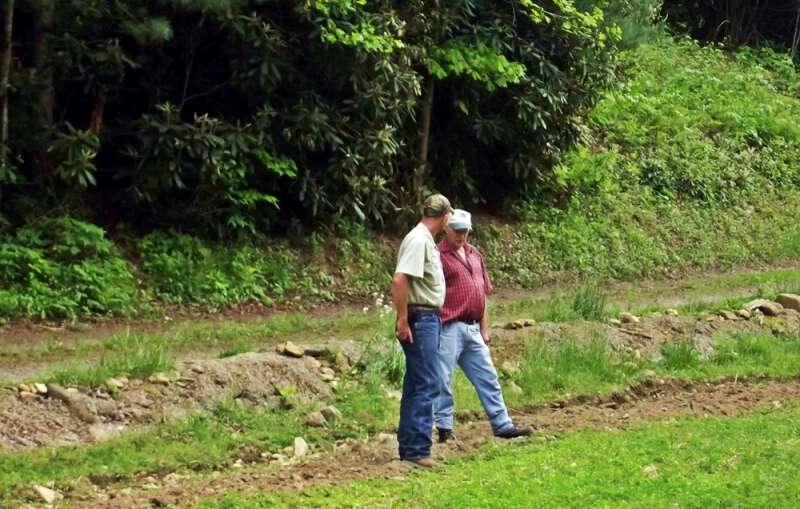 The Deer Hunter and Pap talking over the garden – 2012
It's time for this month's Appalachian Vocabulary Test. I'm sharing a few videos to let you hear some of the words. To start the videos click on them and then to stop them click on them again.
1. Keen: to wail; sharp or high voice; sharp piercing eyes. "He has a keen voice. When he gets excited his voice just gets higher and higher!"
2. Knob: a high point on a mountain ridge. "He said he jumped the biggest bear you ever saw up on Mary Mason Knob. I didn't even know there were any bear around here, but that's what he said."
3. Knotty head: small fresh water fish; same as a hornyhead. "Back in the day when I worked at Lake Logan in Haywood County a knotty head jumped into one of the row boats. It was making such a racket that the other girls and I were afraid to go see what it was."
4. Kernel: a swelled lump underneath the skin. "I'm taking Tommy to the doctor first chance I get. He's got a kernel the size of your thumb under his arm. Hal says it ain't nothing but I'm worried about it."
5. Kerslunge: splash; plunge. "She was going across the foot-log in them slick shoes and kerslunge! She went right off in the deepest side of the creek. I know it embarrassed her to death."
My thoughts on this month's words:
Keen: I can just hear Pap describing somebody's high keen voice. I've also heard the word used to describe somebody's eyes, but probably the most common usage I've heard is a keen hickry.
Knob: This one seems so common that I can't believe it is used mostly in Appalachia, but it was in the Dictionary of Smoky Mountain English so maybe it is?
Knotty head: hornyhead is much more common in my area.
Kernel: I've heard Pap and Granny use kernel to describe a growth that comes up under the skin, but not really anyone else.
Kerslunge: Pap is the only person I've ever heard use kerslunge, but what a word! It sounds like what it means. I was tickled pink to see it in the dictionary.
Hope you'll leave me a comment and tell me how you did on the test!
Tipper