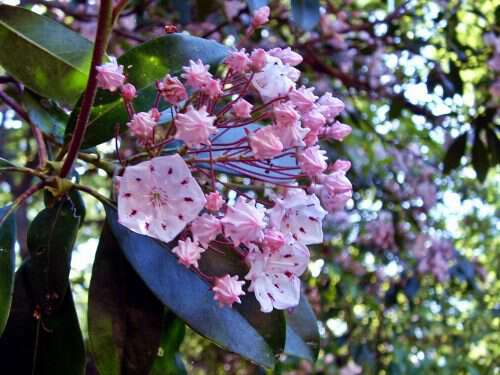 ivy noun
(also ivy bush, ivy tree) The mountain laurel tree (Kalmia latifolia). Same as calico bush, mountain ivy.
1883 Zeigler and Grosscup Heart of Alleghanies 196 The arborescent kalmia and rhododendron, which grow along almost every mountain stream, have a practical use. The ivy and laurel, as they are locally called attain, in some of the fertile coves, a diameter of three inches, and the roots are even larger. 1928 Galyon Plant Naturalist 7 Mountain laurel, known to the mountaineer as "ivy," reaches its maximum development in the Smokies. It is not unusual to find arborescent laurels one foot or more in diameter and many feet high. 1982 Stupka Wildflowers 80 Usually the attractive pink or white-saucered flowers are so abundant that the mountain laurel in full bloom is one of our most spectacular plants. It flowers in May and June, the later blossoms ordinarily occurring on plants growing in the higher altitudes. "Ivy" and "calico-bush" are among its other names. 1997-2001 Montgomery Coll. ivy bush (Cardwell); ivy tree (Brown).
laurel noun Cf rhododendron.
A variant form larel.
1939 Hall Notebook 13:1 White Oak NC larel (Fay Leatherwood)
B (also laurel bush) The mountain term for evergreen rhododendron (Rhododendron maximum and Rhododendron catawbiense), which grows profusely at elevations below 5,000 feet and covers extensive tracts in thicket. Also used in compounds (as flat laurel, laurel bed, laurel patch, laurel slick, laurel thicket, mountain laurel) and in place names.
1890 Carpenter Thunderhead Peak 142-43 There for the first time we saw the tangle of rhododendron which is called "laurel," and forms a dense thicket along all the mountain streams. 1937 Hall Coll. Cosby Creek TN We have white laurels and red laurels here in the mountains. (James Benson) 1939 Hall Coll. Deep Creek NC They fought right down to the foot of the ridge into the flat laurel and commenced barkin'. I though [the bear] was treed. (Mark Cathey) 1974 Underwood Madison County 9 Roderick Shelton and his descendants peopled the area now known as Shelton Laurel.
~Dictionary of Smoky Mountain English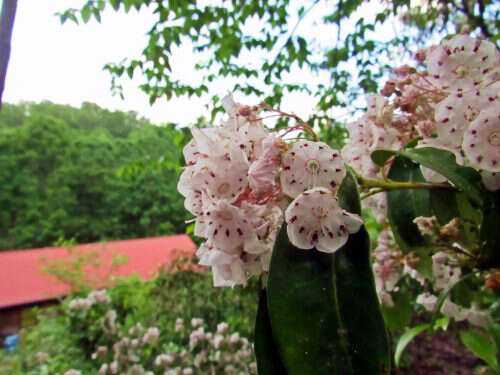 I have one more quote for you.
Dykeman The Tall Woman Pg 304 I've always thought the ivy was about the prettiest thing growing here, the way it clings to the mountains, the way it comes in the cutover places and covers up the scars with blooms in spring.
As I look at the ridge above our house I so agree – the Ivy is about the prettiest thing growing here.
Tipper