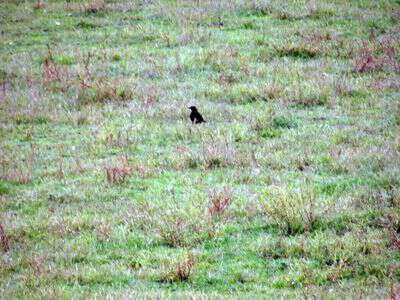 Today's Crow Story was written by Kenneth Roper
—————————–
Uncle Joe's Pet Crow
When I was just a young boy of about 10 or 11, along with a 2nd cousin, I used to ride my new bicycle on an old paved road close to my house. One of my older brothers had moved out and was working in the big city and he bought me a Columbia bike. Boy that thing was fast, but it took me a few days and lots of scrapes to master the ride.
The highway department had made a better road along about '55 and left an old portion that was hardly used. Not many folks owned a car then, including us, so that made a great ¼ mile of sheer joy for our pleasure rides.
About halfway down this road was a little trail leading across a wooden bridge to my great uncle's house. His name was Uncle Joe Matheson and he lived by himself, mostly except for his pet Crow. So when we were riding by and saw him in the yard or on his porch we'd hollar at him and he'd usually invite us over. If you met him walking beside the road you had to stay clear of his cane. We all had learned that lesson, cause he was a bit ornery anyway, being in his late 80's.
My mama and daddy didn't want me around him much cause they knew he drank and made his own whisky and to beat it all he taught his pet crow to drink too, and to do tricks.
One day in particular we were riding by and saw Uncle Joe sitting on the porch. One of us hollared at him and he motioned us over. Well, to 11 year old boys he didn't seem so crazy, so here we went, down the trail and across the footlog bridge up to his place. We got off our bikes and sat on the edge of the porch in case we needed to run. But Uncle Joe treated us really nice and asked us if we'd like to see his pet crow. We nodded with excitement!
Uncle Joe got up and opened the screen door and went inside. He came back out carrying a saucer and a jug of his corn whisky. He poured the saucer nearly half full and went back inside. When the door opened again he started muttering in a low voice and I saw his pet come out from under a chair,walk through the doorway, and start drinking that stuff. Lordy, that stuff was strong, you could smell it several feet away. After the crow had drunk enough, those little beady eyes just froze for a couple of minutes, then he waddled toward the end of the porch and jumped. He sailed a few feet then started climbing almost straight up till he got 150 feet or more. And if I hadn't seen this with my own eyes I wouldn't tell it. That ole crow folded his wings and here he come, like a black rock a falling from the sky. When he got within 20 feet from the ground he opened his wings and sailed down thru the valley. We thought that was awesome!
Uncle Joe had a one gallon paint bucket on the porch and he told us he never had to buy any clothes pins. The crow combed the neighborhood and anything left unguarded that he could carry went in that bucket. We looked in the bucket and saw a pocket knife, some jewelry and a bunch of clothes pins too.
A few weeks later we were riding by and had another friend with us. We wanted to show him what my uncle had at his house. When we got to the house, Uncle Joe was near his corn field with his shovel. We asked him if we could see the crow do some tricks. Old Joe looked up at us and said "Sorry, boys no more tricks. He forgot to open his wings this morning."
Earlier this past week, I met an 83 year old guy who knew my uncle Joe many years ago and he told me many interesting things but no one ever knew how he was able to tame a crow.
—————————–
Kenneth's story was one of my inspirations for The Week of the Crow. When I asked him if he would write it out for me, he hesitated a little-telling me he wasn't a writer. I think he did a fine job don't you? I'm glad he wrote it down for us-but I'm even happier he put the story on paper for his daughters. Kenneth had never shared the crow story with them-but now he has-and even better he's ensured future generations of his family will know it as well.
There's still more crow to go-so drop back by tomorrow.
Tipper