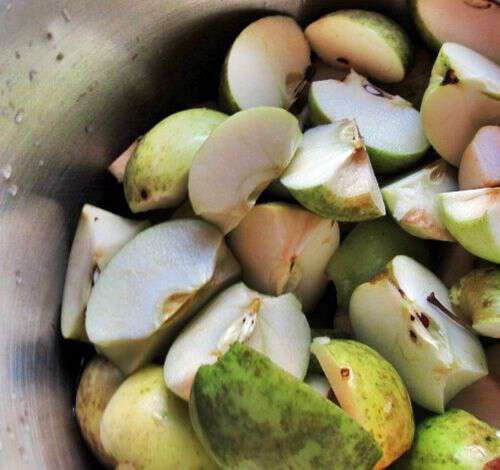 Yesterday me and Granny went and got a few bushels of our favorite kind of apples-the FREE kind. One of Pap and Granny's old friends has a small apple orchard. He used to sell to the general public but as he's gotten up in years he isn't able to take care of the trees like he once did.
The Blind Pig family loves applesauce. We love it with biscuits, we love it with porkchops, we love it with pinto beans and cornbread. And the girls love it straight out of the jar. Most older folks in my area-including Pap and Granny call it fruit instead of applesauce. Like: "I made some fresh fruit to go with supper you ought to come eat."
Applesauce is easy to make-actually for some reason it seems easier than jelly to me.
First-wash your apples. You don't have to worry about peeling them. Most folks core the apple with a handy dandy corer.
Miss Cindy taught me-that if you get the little blossom like end off before you quarter the apples-you don't have to worry about coring them-if you have super nice apples. Some of mine were a little iffy.
After you core the apple-or remove the blossom end-cut the apple into quarters (cut away any bad places you may find in the apple)-place apples in a stock pot-add water and cook till soft.
Once the apples are soft-drain all the water out of them. Next-place apples in a food mill or a ricer too press out the applesauce-leaving the peelings, seeds, and stems inside the mill or ricer.
When I first learned how to make applesauce I used a food mill-but have discovered I like the ricer much better-you can see how easily the applesauce flows through.
Once you've put all your apples through the ricer/food mill put the applesauce into a stockpot-adding sugar to taste and heat thoroughly. While it's heating-you can be sterilizing your canning jars.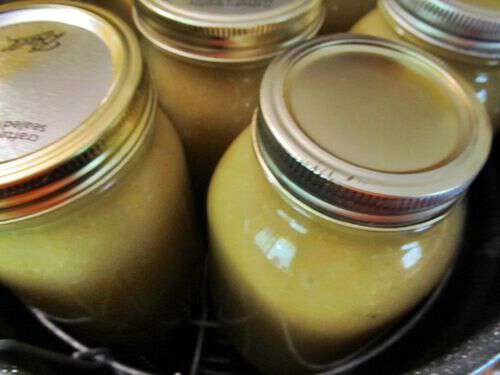 Place hot applesauce into the hot jars-adding the lids and rings. Cook in a waterbath canner for 20 minutes.
Just out of curiosity-I got my ball canning book out to see their recipe for applesauce. I notice they say to peel the apples. Everyone I know leaves the peelings on-Granny always said by leaving the peelings on-it saves time-and you get every little drop of applesauce goodness out.
Do you leave your peelings on? What's your favorite way to eat applesauce?
Tipper