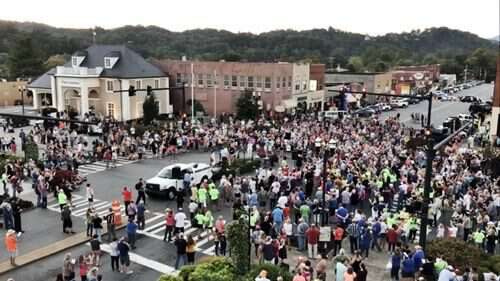 Photo by Kathryn Keily Jenkins
On October 6, 2018 a crowd of people gathered in downtown Murphy NC to "Call the Train Home." The event was organized and supported by folks who are interested in starting a tourism train between the towns of Andrews and Murphy. I heard they were hoping to set a Guinness World Record for whistling "She'll be Comin' Round the Mountain" for the longest time. Over 2,000 train whistles were said to be purchased for the event. I haven't heard if they broke the record or not.
The train used to run from Andrews to Murphy and on through Polk County TN and beyond. When Pap was a boy he caught the train with his mother to go to Newport News VA where Pap's father was working in the ship yards during war time.
Pap once told me another sweet story about the train in Murphy.
They were attending church in Factory Town, which is a little community in the city limits of Murphy. Pap said as they sat on the bench his mother gently poked him in the arm and pointed her head out the window. Pap was only three or four years old and almost had to stand up in the pew to see what she was pointing at. It was the train coming into Murphy.
I always thought Pap's mother showing him the train was the sweetest image. The memory conveys the feeling of those personal glances and looks we give those we love. You know, when you know someone so well no words are needed to send a message only a nod of the head or a raise of the eyebrow.
Tipper
Subscribe for FREE and get a daily dose of Appalachia in your inbox