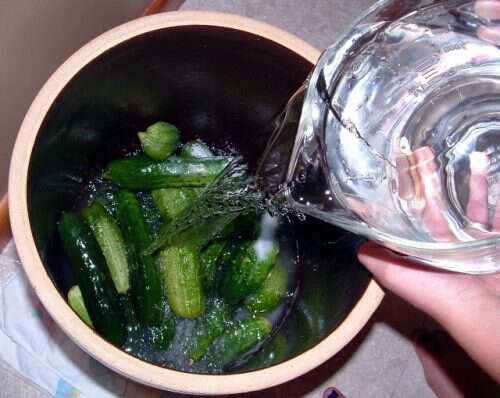 When I was growing up, the only pickles Granny ever made were Bread and Butter Pickles. After The Deer Hunter and I were married his mother, Miss Cindy, introduced me to 14 Day Pickles-let's just say in my opinion they put the smack down on Bread and Butter Pickles.
Granny never uses crocks in any of her canning. She cans everything in the jars-including kraut-which she has to leave on the porch because it has been known to explode.
The Deer Hunter's family use crocks to make kraut, pickled beans/corn, and pickles. Papaw (the Deer Hunter's Dad) said when he was growing up they left the kraut or pickled beans and corn in the crock instead of canning it. His mother would send someone to "dip" some out when she needed it.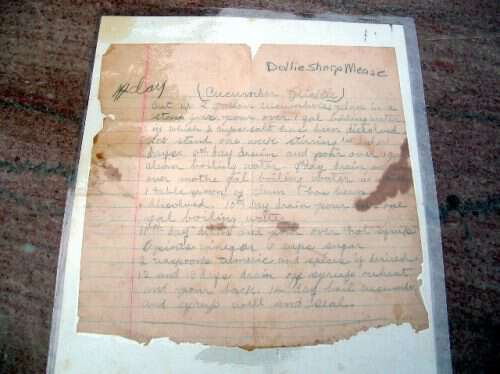 This is the original 14 Day Pickle Recipe that belonged to Miss Cindy's grandmother Dollie. I'm glad Miss Cindy had the foresight to laminated the page to preserve it. The Deer Hunter and I are the 4th generation of his family to use the recipe.
14 days seems like a lot of time to put into a run of pickles, but you don't actually have to do something on each of the days, and it is so worth the small amount of time it takes. The pickles are crunchy and sweet. Perfect with soup beans and cornbread. The Deer Hunter makes the best potato salad I've ever tasted and I believe 14 Day Pickles are the key to his perfection.
Days 1-7: Wash 3 dozen small cucumbers. Do not peel. Place in crock. Cover with brine-1 pint of salt (do not use iodized) and 1 Gallon of cold water. Let stand one week. To keep the cucumbers submerged, I put a plate on top of them, weighted down with 2 pint canning jars full of water at each stage of leaving the pickles overnight.
Day 8: Pour off brine. Cover with boiling water. Let stand overnight.
Day 9: Drain. Cut in small pieces. Cover with…
boiling water containing Alum-lump size of walnut (2 tablespoons) and Horse Radish-root size of carrot cut in pieces (2 tablespoons of prepared horse radish may be substituted). Let stand overnight.
Day 10: Drain liquid. Add boiling water to cover. Let stand overnight.
Day 11: Drain well. Make syrup of *3 pints of apple cider vinegar, *5 quarts sugar, *Approximately 1/2 small box of cinnamon tied in gauze (as you can see I just put mine in loose), *2 tablespoons whole cloves, *2 tablespoons celery seed. Bring all the ingredients to a boil and pour over pickles. Let stand overnight.
Day 12: Drain syrup from pickles. Bring to a boil and pour over pickles.
Day 13: Drain syrup from pickles. Bring to a boil and pour over pickles.
Day 14: Bring pickle syrup mixture to a boil, pack in hot…
jars and seal. (remove cinnamon sticks before ladling into jars)
If you've got some extra cucumbers and 14 days to spare-I hope you'll give the 14 Day Pickles a try. I know you'll be glad you did.
Tipper