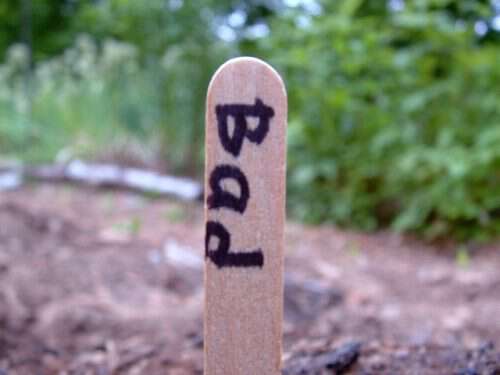 My 3rd Annual Planting By The Signs Test is moving right along. Today I'd like to update you on some of the participants and their cucumbers.
July 12th-Jen: Only two of the three bad day seeds ever sprouted and all three plants of the good day seeds were beautiful. Because of my limited space, I chose the best looking plant of each and removed the others. Anyway, both plants are in the same trough with the same water and sun exposure. The bad day plant looks healthy and pretty, but is quite a bit smaller and has only one blossom, whereas the good day plant has numerous blossoms.
July 1st-Helen: One 'good' day plant is the largest. The other two 'good' day plants are putting on blossoms.
June 15th-B. Ruth: We got four pretty little cucumbers just the right size..off our test plants..would you believe three off the bad day and one off the good day…
June 22nd: So far we are getting a few more bad day than good day….but looks like they both are catching up and will be getting many cucumbers off of all the plants…these are very productive and tasty cucumbers…
June 9th-Penny: I planted on the the 8th of May for my "good" day and had only 2 come up. They came up on the 11th. Bloomed on June 5th. "Bad" planted on the 6th of May, 2 up on the 10th and 2 up on the 11th. Bloomed on June 5th and a tiny, tiny cucumber on June 8th….So far so good….really surprised how they are so different…June 16: Today I got 2 cucumbers. One of the bad days which was larger than the one from the good days.  But they were ready because I could tell by the color change. I just ate them both and they were very good. I don't know what size they were suppose to be but they were about 4 inches long. They look like they are pickling cucumbers. So that's my update for now…(Penny used alternate planting dates-due to being out of town on the dates the rest of the participants used-she still used a good day and a bad day according to the signs)
June 4th Mark Selby: It's been a wet and cool Spring, up until a week ago.  Most of the time, my little garden spot has been too wet to till, so I haven't done anything to it since last Fall. Well, I was determined to plant the cuke seeds in the wrong signs, so on last Saturday, May 28th, when the moon was in the fourth quarter, and the signs were in the head, I put five cuke seeds in the ground. I had to turn it a bit with a shovel, as it was still a sopping wet mess. I had intended to rototill the rest of the garden while the signs were good for tilling and killing, but it was always too wet. It finally did dry up enough that I could till it on Thursday, June 2nd. While the moon was not in the right phase for tilling, the sign (in the arms) was. That brings us up to today, June 4th. The moon is in the right phase for cucumbers (First Quarter) and the sign is in the breast. I plan to plant the remaining cuke seeds you sent today. By the way, the seeds I planted on Saturday the 28th were already sprouted and growing well by Thursday the 2nd. (Mark's planting dates were also changed due to the wet spring in his area)
June 1st Nicole Ross: My "bad day" seeds came up before the "good days." They were up two days before. My daughter has been helping me watch (she's 2) and she's really gotten into our experiment. We planted a test group of peas as well, to see if there was a difference in them (also from Hometown Seeds) and they came up on the same day, even though my "bad day" peas were planted later.
June 1st David Templeton:  I planted the cucumber seeds (you sent me for this year's study) on the optimum days for "Good vs. Bad" day testing. My garden was under water a lot back then so I had to plant the cuke seeds at the upper end as it began dry first.  That's where the "Touch-me-not" seeds fell and they sprouted at the same time the cuke seeds did and the seedlings look so much alike that I can't tell which is which yet but I believe the "good day" cukes came up on schedule and the "bad day" cukes are lagging well behind the "Goods." Anyway, the cukes were planted "by the signs" and I'll report as the study continues.
May 31st Mamabug: My good day seeds came up and a few days later the bad day seeds were up. My bad day plants look a whole lot better than the good day plants, I guess time will tell when the cukes start making which plants will have a better yield.
May 31st Warren: My good days came up first for sure but both appear to be doing just fine. We have been wet for sure but it doesn't seem to have been a big problem really…
May 31st-Stacey: The rain ended just a few days ago here in Southwestern PA and went immediately to 90 plus degree days. I planted my seeds in the pouring rain and 4 of each seeds up now but I don't know which ones sprouted first for I wasn't monitoring the garden because of all the rain. I was just hoping that they wouldn't all be washed away or possibly float somewhere else but that didn't happen. I'm looking forward to some tasty cucs & pickles.
May 31st Becky: My seeds were up in three days of planting. But only two of the good day seeds sprouted. All five of the bad day seeds sprouted. Two of them were up within three days, the other two took over a week to sprout. They are all growing nicely so far.
May 23rd Barbara Gantt: My good day seeds sprouted in 4 days. The bad day seeds are not up yet.
So how are mine doing? Not very well. My bad day seeds sprouted a good 3 days before my good day-even though they were planted later. We're getting cucumbers from both the bad and good day plants now-but the production of both seems to be slower than usual. We've had plenty of rain this year-so I'm thinking it must be something the soil is lacking. Last year we dressed the entire garden with mushroom compost-I'm wishing we had done that this year too.
Tipper