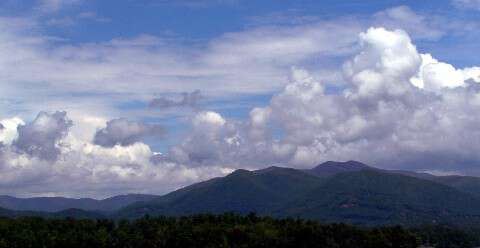 Today's guest post was written by Eva Nell Mull, Ph.D.
——————————-
To recall the visit of my mother and father, Martha and Joe Mull and their 11th child, David, to Tennessee in the month of July, 1961, brings back many precious memories for me. Never before had they been to the 'secret city' and they were there especially to visit us and 'view' our first newborn child, James Seymour Wike, Jr. You might be wondering, "What has Joe and Martha's visit to see their new grandson got to do with tall white pines?"
Well Sir, I'll tell you right now. It is quiet simple actually. If you knew my Daddy well, you would know that he knew all about 'new ground' and how to fix it. And that is exactly what our little acre needed-FIXEN! That being because it had been a cornfield before it became our very own 'barren' red clay yard.
After admiring our Jimmy and visiting a spell, Daddy was ready to 'make tracks' as he often described his departure. His parting advice was, "Honey, I do believe you need some white pines planted around your new house to kind of cool it." Air conditioning was neither in his repertory nor in our budget. Having watched all the good red clay fast washing off our yard I knew my Daddy was right. He said "When you get able to travel, you come over and we'll get a few white pines from the Cross Tie Hollow for you to plant." Then they were gone.
In the winter time of '61 we made our journey back to the Cove to visit Mamma and Daddy and show off our Jimmy to everybody. Just before we were getting ready to 'make tracks' back across the mountains, Daddy very carefully placed a big toe-sack filled with five saplings in the trunk of our car. Closing the lid carefully he said, "I do believe these white pines will all make it! Just don't plant them too deep." By golly they did! ALL FIVE! Just like my Daddy had predicted.
The years passed and Jimmy grew tall. But so did the white pines. Of course I had planted several of the pines too close to the house (to cool it) and in time we had to cut them down-one at a time over the fifty years-until now there is only one remaining. The last white pine left standing in our yard is scheduled to be cut down in the next few weeks. It will be a simple matter for the tree cutters. But the Lord only knows how precious those memories are regarding those white pines my Daddy dug so long ago.
——————————-
When The Deer Hunter and I first moved into our house-surrounded by red clay just like Eva Nell's house was-me and Pap walked way up the creek and came home with a bucket full of Hemlock saplings to plant in our yard. Some lived-some died-and over the years we've lived here a few had to be removed for one thing or another. There's only one left now.
I hope you enjoyed Eva Nell's post as much as I did-leave her a comment and I'll make sure she reads it.
Tipper