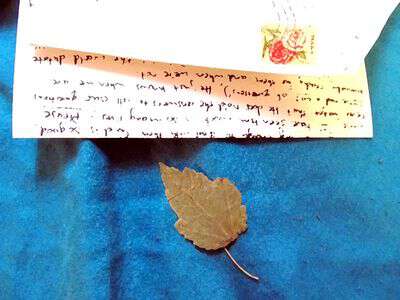 Chatter has a real life pen pal! She met her at the folk school last summer-and ever since they've been exchanging letters via the US Postal system. The letters are pages long, chock full of the happenings of the girls' lives.
Chatter's last letter had a surprise hidden in the folded pages-the least little leaf you ever saw! It was perfectly pressed with lovely sharp edges and veins that ran up and down it's sections like a road map.
The way Chatter carried on over that leaf you'd have thought she'd got a million dollars in the mail. I thought sending a leaf in a letter was one of the coolest things ever! I also wanted to know why I didn't think of sending someone a leaf! After I studied on the leaf for a few days I decided its value was well above a million dollars.
Up north a sweet girl looked through the outdoors until she spotted the exact leaf she wanted to send her friend. She tucked the leaf between the words that told the stories of her recent days. She sealed the envelope, affixed the stamp, and placed the letter in a mailbox with anticipation, wondering all the while if her friend in Brasstown would be pleased by the addition of the leaf. A girl in the mountains of NC happily claimed the letter from her mailbox down the road. She could barely stand the walk home with the excitement of waiting to read the words her friend had written. But as her eyes eagerly sought the message within-the girl was stopped in wonderment over the perfectness of a leaf.
Yep. 1 leaf = 1,000,000+ dollars
Tipper
Appalachia Through My Eyes – A series of photographs from my life in Southern Appalachia.