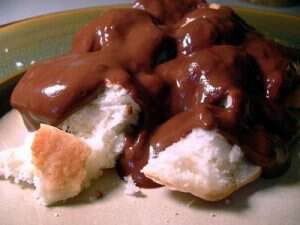 One of my favorite make do recipes that has been passed down through our family is chocolate gravy. I grew up eating it on Granny's biscuits. It was only when I started making it myself that Granny told me the story behind it.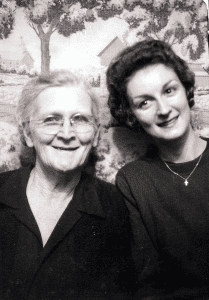 When Granny was growing up (that's her with her mother Gazzie) they often ate chocolate gravy. It was a family of 9 children-and when there wasn't much milk and there was no meat to fry for grease-Granny Gazzie fed her family chocolate gravy and biscuits for breakfast.
Since there wasn't many sweets back then-Granny said it seemed like a treat to get chocolate gravy. I'd say Granny Gazzie was pretty smart-she made them think they were getting something special-when actually it was a way of making do when there wasn't much else to eat.
For a pretty good size bowl of chocolate gravy put 3 tablespoons of flour into a pan on medium heat. Add 4 tablespoons of sugar and 3 tablespoons of cocoa.
Mix the dry ingredients well. Gradually add water to the mixture-stirring constantly. Continue to add water till the mixture thickens to your liking-just like you would do any other type of gravy.
Crumble up some biscuits-pour some chocolate gravy on and enjoy!
I know chocolate gravy is common throughout different parts of Appalachia-but The Deer Hunter had never seen it till he met me. He said it sounded like an abomination to him-but after a few years of living around this bunch he decided it wasn't so bad after all.
So now you know my favorite thing to eat on Granny's biscuits. Have you ever had chocolate gravy?
Tipper