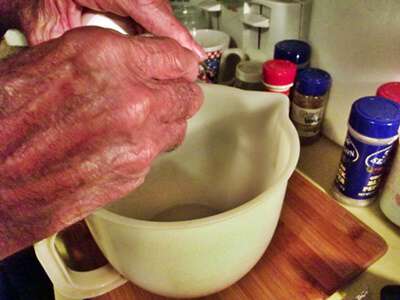 Pap showing me how to make sweet bread like his mother did
Sweet Bread
Lard
2 eggs
¼ cup butter
1 cup milk
2 teaspoon vanilla
¾ cup sugar
2 cup self-rising flour
Heat 2 cast iron pans on the stove; add a spoonful of lard to each. While the lard is melting, break 2 eggs in a mixing bowl. Cut a stick of butter in half. Then cut the half in half-adding a half
of a half to each pan. (I think I just invented a new tongue twister)
While butter is melting add milk to eggs and mix well; add vanilla and mix well.
Once the butter is melted in the frying pans, pour most of it into the milk egg mixture and stir well. Pap told me he liked to melt his butter in the frying pan because it's one less dish to wash.
Next add sugar to mixture and stir well. Add flour and stir till smooth.
Divide batter equally between the two pans and place them in a pre-heated 350˚oven. Bake for 20-25 minutes or till golden brown.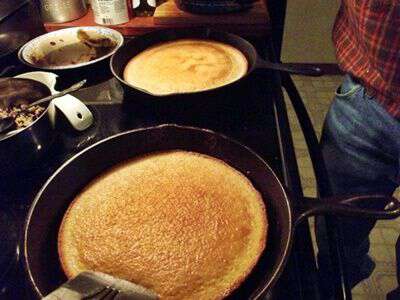 Sweet Bread can be frosted, but my favorite way to eat it is straight out of the pan. Pap always liked to open a can of Granny's peaches to eat with his.
If you've never had sweet bread before, its very similar to a simple cake recipe. You can easily decrease or increase the sugar in the recipe to better fit your preference of sweetness.
When Pap was growing up there wasn't many sweet treats for kids to eat. Pap had fond memories of the special times his Mother would make his family a pan of sweet bread.
Tipper
p.s. The winners for the JCCFS Fall Festival Tickets are:
Jeanette Queen who said: Good Afternoon, Tipper…..so love the Blind Pig blog, reminds me of home, family and music, that have been
in my life always. So excited, maybe I'll win, I'd love to see your girls perform !
and
Cheryl who said: Good morning, Tipper! I went to the festival for the first time last year and it was amazing! A friend is visiting me in Ellijay next week and we planned her trip to coincide with the festival. I'm not able to get to JCC as often as I'd like, but I was able to go to the shaped note singing and the cookbook release with my granddaughter. We love JCC!
Please email your mailing address to me at [email protected] and I'll sent you the tickets 🙂
Subscribe for FREE and get a daily dose of Appalachia in your inbox