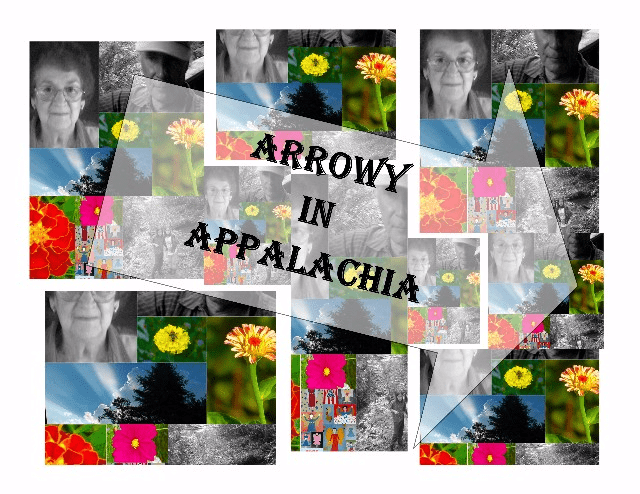 Almost every comment on yesterday's Appalachian Vocabulary Test was the same-folks were familiar with all the words except arrowy. Most of you will remember-but for those of you who might have missed the test-I explained the word like this:
Arrowy: arrow. "They've got a arrowy painted on the road showing you were to turn off now. I reckeon they think people can't do nothing by themselves."
Back in the day-before I ever laid eyes on The Deer Hunter, I went on a date with a boy from way down in the lower portion of Cherokee County. We went bowling. He was trying to explain the art of bowling to me-when he told me to watch for the 'arrowy'. I said "Watch for what?", he said "The arrowy." After a few times of that I finally figured out he was telling me to watch for the arrow. He sorta blushed and told me "All his family said arrowy for arrow." I told him not to worry my family talked funny too.
I never even thought about trying to research the word arrowy-but one of you did. Sandy found this about the word:
Ar´row`y a. 1. Consisting of arrows. How quick they wheeled, and flying, behind them shot Sharp sleet of arrowy showers.- Milton.  2. Formed or moving like, or in any respect resembling, an arrow; swift; darting; piercing. By the blue rushing of the arrowy Rhone.
After I read Sandy's great comment I found this on the Merriam Webster site:
Definition of ARROWY

1

: resembling or suggesting an arrow <arrowy pines>; especially: swiftly moving <the sky was radiant with arrowy bolts  — Mark Twain>

2

: consisting of arrows <arrowy showers>

*1616-first known use of arrowy

*marrowy rhymes with arrowy
The boy from back in the day-used the word to describe an arrow I should be watching-and he did indeed pronounce arrowy to rhyme with marrowy. The comments from yesterday more than proved the use of the word is not common today-and the young man is the only person I ever heard use it myself. But I find the information Sandy and I found fascinating. It would seem-for whatever reason the word arrowy was passed down through the generations in the boy's family-all the way to his generation. Makes me wonder if he still says it? And if maybe his kids say it too-if he has kids?
Tipper