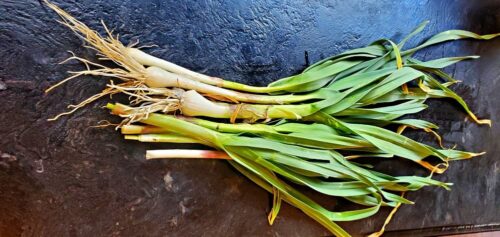 A few weeks ago we were over at our friends' house taking a hike. There's an old homeplace that's marked by daffodils and what I thought was garlic.
Last week our friend went back to the area to move some of the garlic closer to their house, only once they dug it up they realized it wasn't garlic but some sort of onion.
The leaves totally look like garlic to me, but a whiff and taste of the bulb reveals no garlic taste or scent whatsoever—it's all onion.
Yesterday's post about tater onions piqued my interest and a quick search led me to some information that said potato onions are sometimes considered perennial because they spread by the bulb instead of by seed and were once quite common in home gardens, especially ones in colder climates. You can read what I found here.
Yesterday Kathy left this comment regarding potato onions:
"Around here a tater onion and a walking onion are the same. The main onion head has little onions branched off to it side. Our tater onions aren't very big but they are interesting to see and raise."
Thanks to the generosity of Blind Pig reader Bill Dotson I've grown walking onions and the ones in the photo are definitely not them. But I know from personal experience things are called one thing in one area and called something totally different in other locations.
So now I'm wondering if the onions from my friends' property are potato onions or some other type? Any information you can offer will be greatly appreciated!
Of course I can't help but wonder about the folks who planted the onions and the daffodils growing near them here in Brasstown so many years ago. My wondering makes me wish I could go back in time and ask them about the onions.
Last night's video: Easter Legends from Appalachia.
Tipper
Subscribe for FREE and get a daily dose of Appalachia in your inbox