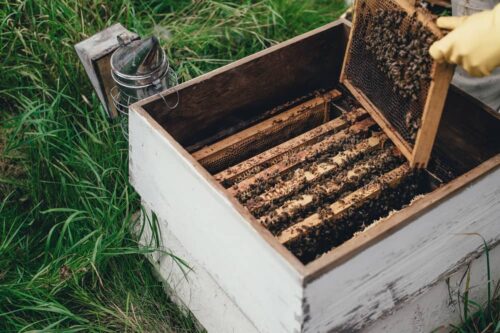 The 1974 Winter Edition of the Foxfire Magazine contains a compilation of newspaper articles written by Harvey Miller. At the time of the magazine's publication Miller's weekly column had been around for sixty years and was till being published in the Tri-County News located in Spruce Pine, North Carolina.
Here are a few of Miller's April articles. I enjoyed them and hope you do too.
1972
Aspie McCoury who lives on Byrd Creek at Pigeon Roost reports that early Sunday Morning, April 9, when he started on the mountain to feed his cow and mule when there was a heavy frost on the ground that was frozen as hard as a bone, he found coiled up in his path a 2-1/2 foot long green-bellied snake frozen as stiff as a piece of plank. He didn't know exactly what kind of snake it was, but it was found below an old log house that McCoury had made a tobacco barn out of. The snake was not dead and he throwed it across a nearby fence and went on his way leaving the snake behind to catch mice in his barn if it got thawed up that day as the sun shined out very warm.
Well, the farmers are badly behind with their essential farm work, due to a continuation of inclement bad weather conditions. Even those who just tend a small garden plot has not got it plowed yet.
4/20/72
1971
Have you ever heard of anyone putting flax seed in their eyes to take out something that has got in their eyes? I have had it done to my eye and it done the work, too. The flax seed must be the slickest seed that ever growed. You can have your eye lid pulled up and a flax seed dropped in your eye and talk about an object moving around and around in your eye! It will when you first close your eye and then the flax seed will jump out and if the object is not stuck in your eyeball, the flax seed will clean out your eye. I say to my readers, if you doubt this in the least bit, what I have told you, then don't try it, as you know a doubting Thomas never has any good results from anything much. But anything I have seen tried and done myself and it worked out fine, I am not afraid to try again. But listen to this now – flax seed is a scarce a seed as I can think of. I wouldn't know how to start about it to find one. Flax seed poultice is an old time remedy for sprained joints, too.
4/15/71
1965
It's onion-settin' time again and several folks here still set out some "tater" onions and some gets'em set out in November.
It's been a hard winter here on bees. Park Hughes said his bees has all died but four stands. He said it has been too warm a winter for bees.
4/8/65
---
I hope you enjoyed this peek into the Pigeon Roost area. Amazing story about the snake. They are out and about here, Chatter noticed a corn snake in one of my flowerbeds yesterday.
I was so glad to read the story of the flax seed. When I was a very young girl I heard a lady from church talk about the remedy. Ever since I heard her tell about doing it to her own eye I've had that thought pop into my mind every time I get something in my eye or someone near me gets something in their's, but I've never been brave or desperate enough to try it.
Jump over to the Foxfire website and poke around. They are still publishing the magazine and those wonderful Foxfire Books too!
Last night's video: FRUGAL Kale, Potato, Egg Soup – In Appalachia.
Tipper
Subscribe for FREE and get a daily dose of Appalachia in your inbox