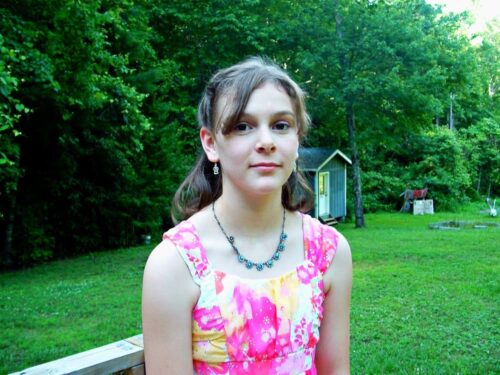 A picture I made of my niece, April, back in 2008
A week or so ago someone left a comment asking me if it was common in my area to hear folks use the phrase make your picture. I responded with a resounding yes!
The other night as we were leaving the Mountain Arts Center after the awards ceremony the words flew right out of my mouth. The girls and I were about to step into a hallway to make our way back to the door where we entered so that we'd be closer to our car. Four or five gentleman were lined up against the wall posing for a photo. Just as I noticed them I held my arm out to stop Chatter and Chitter and said "Wait a minute someone is making their picture."
Granny used to about drive us crazy with what ever cheap camera she had at the moment. She wanted to make pictures of everything we did. All these years later I'm beyond thankful that she was always sticking a camera in our faces. She continued making photos of the grandkids just like she did us.
As I've helped her clean out over the last several months I've been pleasantly surprised by the photos she's made of the girls over the years—many of which I had never seen before.
When I was in elementary school there was a project that filmed 8th graders saying what they hope to be when they grew up. I really didn't have a clue, but even then I loved what one could capture when making a picture so when it was my turn to stand and share my dream career I said I wanted to be a photographer.
That dream career was totally forgotten once I started high school. Yet for the last 14 years I've made so many pictures for the blog that I actually did grow up to be a photographer.
Last night's video: You Helped Me Win.
Tipper
Subscribe for FREE and get a daily dose of Appalachia in your inbox