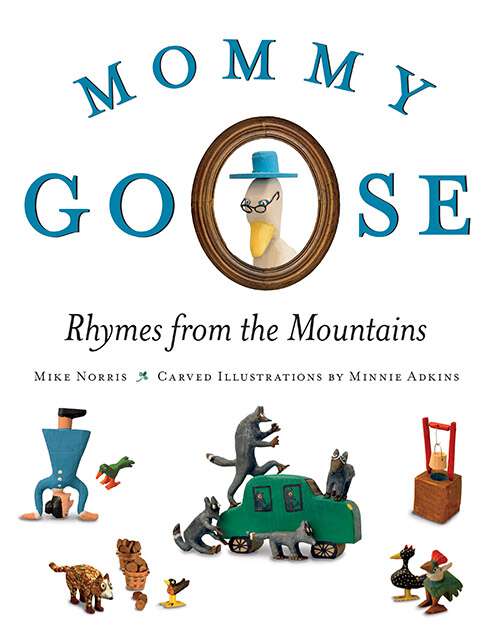 Back in September I told you about Mike Norris and his book Mommy Goose Rhymes from the Mountains. It is filled with 50 original rhymes written by Mike himself. The book uses the rich colorful Appalachian Language that I so love.
It is wonderfully illustrated with photos of over a hundred hand carved and painted works by Minnie Adkins who has permanent collections in the Smithsonian American Art Museum, the National Gallery of Art, and the Kentucky Folk Art Center.
Two months later I'm still enjoying the rhymes in the book. Granny and I had a great time reading it together the other day. Here's one of my favorites from the book-Granny liked it too.
Mommy Fell
When Mommy fell out of the apple tree,
She got right up and went on a spree.
She danced a jig on the featherbed,
Then baked two bushels of gingerbread.
She used our tablecloth for a cape,
And made a necklace with measuring tape.
She tried to crochet with her feet,
Way up in the night before she fell asleep.
She stomped in the kitchen next morning and said,
"Who tracked mud all over my bed?
Why, look at the floor, covered with crumbs.
And where did all this gingerbread come from?
I don't know who I have to thank
For being so pyert as to pull such a prank,
But I'll find out before the day's through,
And they'll be in big trouble when I do!"
Granny said the rhyme reminded her of her mother Gazzie. She said "Momma worked so hard from daylight to dark every day that she couldn't even remember all the things she did in a day. Now if I could crotchet with my hands and my feet there's no telling what I'd make!"
There's a cd of the book which contains a song Mike wrote about Mommy Goose. The song, along with the music, is in the back of the book so anyone interested can learn it themselves. The cd also contains a very nice narration of the book by Mike and a conversation between Mike and Minnie that will leave you smiling for the rest of the day. Me missing Pap is no secret to any of you. Hearing Minnie's sweet voice use so many of the words, sayings, and phrases Pap used has been a true balm for my soul.
I asked Mike where the best place to purchase the book and the cd was and this is what he said:
The Mommy Goose: Rhymes from the Mountains CD is now available on iTunes, Spotify, Amazon, Google Music, and a bunch more places online. Check it out on iTunes and listen to samples of the tracks here:
http://itunes.apple.com/album/id1160037010?ls=1&app=itunes

If you have the book without the CD, it's really not complete, as the song, narration, and 40-plus minute conversation with Minnie are a key part of the project. (And physical CDs can be ordered from Amazon.)

Bookstore versions of the book may be ordered many places online, but Amazon and The University Press of Ky [it's the university press of the whole state, not just UK] are two good sources.
If there is a child in your life or a rhyme loving adult like me, I suggest you buy Mike's outstanding book and cd for them. Both items would make dandy Christmas presents.
Preserving our language is a cause that is near and dear to my heart and I commend Mike for trying to keep our rich colorful Appalachian Language alive.
Tipper