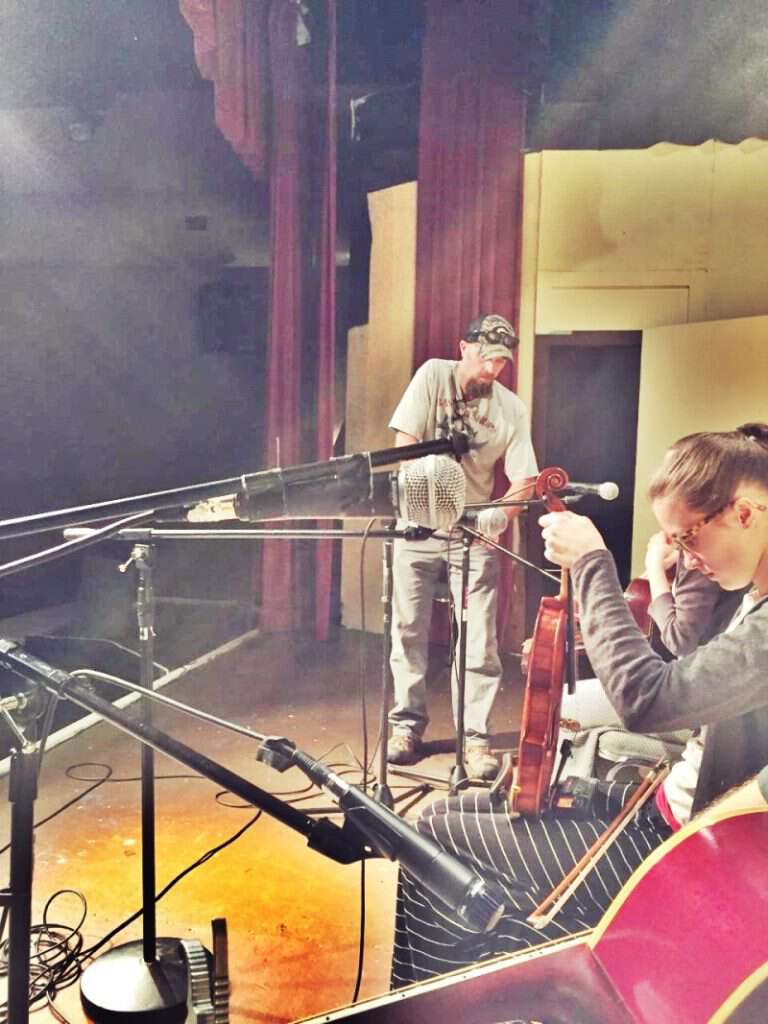 The Deer Hunter is the man who can fix anything. I swear it doesn't matter what is tore up he can figure out a way to make it work like new. Sometimes I think he's MacGyver-remember him from tv?
Unlike most musicians we don't own a sound system so we're always at the mercy of whoever we're playing for and often have to just make the best with what's available. At a recent show they were one vocal mic short which meant Paul or Chatter one would have to play and sing into the same microphone. The gentleman helping out thought he saved the day by finding another stand in the back until we noticed it was missing the mic holder. Oh well we all said, we'll make do.
Before I knew what was going on The Deer Hunter followed the man back to the room where he found the extra stand to see if he could find something else that might work. When he failed to find anything he taped the microphone to the stand allowing the audience to hear Paul's amazing flat top picking as well as his beautiful voice. I said "Where in the world did you get the tape?" The Deer Hunter said "I had it on the handle of my knife, all I had to do was take two pieces off." See what I mean about MacGyver? Who carries tape on their knife handle just in case?
I know there are resourceful people like The Deer Hunter all over the world, but it seems my area of Appalachia is chock full of them: folks that can figure out how to fix things with what they have on hand and I'm mighty glad to be married to one of those people.
Tipper
Appalachia Through My Eyes – A series of photographs from my life in Southern Appalachia.
Subscribe for FREE and get a daily dose of Appalachia in your inbox