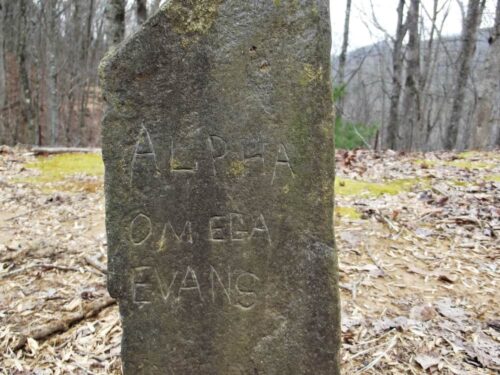 I first told you about Alpha Omega Evans back in 2012. At that time we had recently visited Paynetown Cemetery which is located near Fontana Dam. It was established in 1901 by Greenberrry Payne.
It's a beautiful location that has a very peaceful feeling.
When visiting old graveyards we love to look at the names and dates on the stones as we wonder about the people and their lives.
Chitter noticed the handmade gravestone of Alpha Omega Evans and called us all over to see the unusual name. She was excited because she knew where to find the words in the Bible.
Just as we were leaving Chitter ran back and kissed Alpha Omega's gravestone.
Don Casada recently shared some new information he found about Alpha Omega while going down the rabbit hole of genealogy searching for the birth date of Jim Boy Evans.
Here's the first part of what Don found relating directly to Jim Boy Evans and the day he was born.
---
"The March, 16, 1882 date come from his WW1 draft registration in Blount County, TN for James Calloway Evans. Much to my surprise (and delight to find), the registrar was I.K. Stearns. I.K. Worked for Alcoa for a bit after his schooling at Maryville College. By the way that draft registration indicated he was white, medium height and build, with blue eyes and black hair.
The March 16, 1883 date comes from Social Security Claims Index, which lists his parents as James Evans and Alfa Fuller. As per below, Alfa was actually Alpha Omega Fuller Evans.
Here's the rest of what I found:
In the 1900 census, James Evans is listed as the 16-yr old son of James and Oma Evans, and has an 11-year old sister Mary.. As you probably already figured, Oma the same person as Omega.
There is a 1907 marriage record for James C Evans and Martha Farley, conducted by G.M Stephenson, Justice of the Peace, at "Crisp's House."
The 1910 and 1920 census records both point toward a birth year of 1873. In 1910, he is listed as James B Farley, along with his wife Martha J. Farley and several children, one of which is infant Thomas V(incent). I have no idea why it is Farley – her maiden name – instead of Evans. In 1920, James C Evans is listed with Mary J Farley and several children. Three of the children are listed as stepchildren of James Evans – George, Charley, and Iola Farley. There are two sons listed with the surname Evans – 10-yr old Benson and 8-yr old Edgar. Benson was obviously the census taker's version of Vincent. The 1920 census was recorded on January 19.
There is a death certificate for Martha Jane Payne Evans (daughter of Joel Payne and Carolline Taylor) on Aug 16, 1920; it notes she was the wife of Jim B. Evans.. I also found a death certificate (Virginia) for Thomas Vincent Evans, son of James Callaway Evans and Martha J. Payne.
In the 1930 census, 46-year old Calloway Ivins is listed as a widower and living with his sister Mary Bracket and her husband, John L. Bracket. They appear to be in the far western part of the county – as in around Eagle Creek or further west.
Mary Evans Brackett's death certificate (TN) identifies her parents as Jim Evans and Alpha Omega Fuller. That helps verify the connection between her, James Calloway "Boy" Evans and their parents.
The Social Security record is dated June 1937 (no day given)." 
---
Fascinating information Don found, but no one left today to say for sure which is the correct birth date of Jim Boy Evans. Looking a little further Don discovered more about Alpha Omega.
---
"In the 1870 census, 11-year old Alpha Omega Evans was living on DeepnCreek with her family. The next family after hers was Elizabeth Lollis, and the second one after hers was John Millsaps who was a "Doctor of Physic." 
Here's where it gets interesting. John Millsaps acquired a land grant to the land where Daddy grew up in 1870. The following year, he sold 1/3 interest in it to Elizabeth Lollis and 1/3 interest to Enos Gunter. I think it likely that Enos Gunter lived where Daddy's folks did. In 1880, the two of them sold the property to Alfred Jefferson Parris, the brother-in-law of Enos Gunter and 1st cousin of Wade Patterson's great-grandfather, Alfred Washington Parris, who lived on Indian Creek. So it's altogether possible that Alpha Omega spent some of her early years on Juney Whank Branch."
---
Juney Whank Branch is the area Don's father is from so that's why that portion of his research is important to both Don and me. I've never tried my hand at genealogy, but am always amazed at what can be found by those who go digging in the past. I'm fascinated by the things they find.
When I read about folks from days gone by I feel a kinship with them, especially the ones I have knowledge of like Alpha Omega Evans. And even though my connection with her is only through her gravestone, I just know she'd be happy and perhaps a bit surprised that a woman from Brasstown and a man from Bryson City got all kinds of excited about finding out more about the life she lived in the Smoky Mountains.
Last night's video: Aunt Fay's Pound Cake = Good Eating in Appalachia.
Tipper
Subscribe for FREE and get a daily dose of Appalachia in your inbox