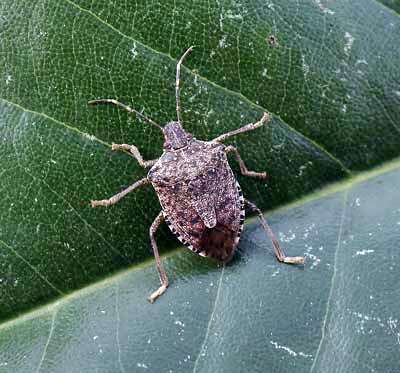 A few weeks ago Perri Morrison Smith left the following comment:
"Hi! I was wondering if you had ever run across a repellent for stink bugs that can be applied to the bright side of my house where they congregate near my door and windows? They are so very sneaky! They can get indoors through the tiniest crack, and are nigh near impossible to catch before they've hidden somewhere. If you have any ideas about these stinky critters, please share them with us. I noticed a couple today when it was warm, and I started dreading their return. Thank you!"
Unfortunately I don't have any tips for Perri. I rarely see a stink bug, but I have heard from other folks like Perri who are inundated with the pesky bugs. Here's some information I found on the NC State NC Cooperative Extension website:
"The brown marmorated stink bug (BMSB, Halyomorpha halys) is an invasive pest that was accidentally introduced from Asia into Pennsylvania in the 1990s. Its first detection in North Carolina was in Forsyth County in 2009, and it has since spread rapidly throughout the piedmont and mountain regions of the state. The coastal plain has had fewer occurrences during this period, although the insect has appeared in isolated locations. As of February 2016, it had been confirmed in 69 of NC's 100 counties.

Although BMSB can be a destructive pest to a wide variety of crops, it usually establishes itself first in urban landscapes, roadside vegetation, and structures that provide attractive overwintering sites. This has been the case in North Carolina, with most early reports coming from property owners in urban areas between Raleigh and Asheville (the I-40 corridor) who have experienced BMSB "invasions" in late summer. Sightings in home gardens and on commercial farms have increased from extremely isolated reports in 2010 to widespread occurrences in 2015. In general, the pest has not yet caused the extensive agricultural problems experienced in the mid-Atlantic states, but it is on track to reach similar levels as local populations become further established."
The NC site doesn't really offer any information for homeowners who'd like to get rid of stink bugs around their place. I did find this page that offers 10 ways to get rid of stink bugs. I haven't a clue if any of the tips would work or not.
Stink bugs remind me of hot summer days when us kids would try to trick one of the others into squishing a stink bug by sitting on it or some other method we dreamed up.
I'm hoping some of you have some advice for Perri. After reading the piece on the NC Cooperative Extension site I believe more of us may be facing a problem with stink bugs in the future. (*The very day after I wrote this post, Chitter found a stink bug in her room!)
Tipper