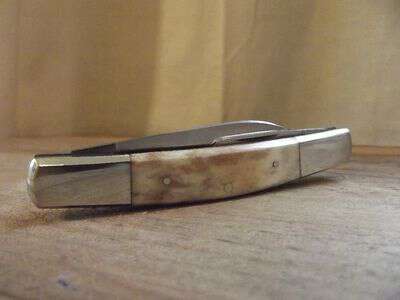 I first met Rooney and his lovely wife Maryolin at the John C. Campbell Folk School. They've been coming to the folk school since the 70s-as students-and as teachers. Rooney is a Blacksmith, and Maryolin is a quilter who also calls contra dances.
Contra dancing is a contact style of dancing. Its hard to dance through a night of contras without meeting every person in the contra line at least once-usually much more than that.
I met Maryolin and Rooney in the contra line. From the start I loved to listen to them talk. They're from South Carolina and have that long vowel southern drawl. After chatting for a few minutes in between dances we soon realized we had much in common and we've been friends ever since.
Rooney likes knives-he picks them up at various places and takes them home. Then he does something totally unexpected with them-he gives them away!
The knife in the photo above-is an American Blade Company Knife with bone handles. It's called a Sow-Belly Whittler. Rooney explained to me-the sow belly part comes from the sway-back handle shape. Rooney also told me that a whittler always has 3 blades with the largest on one end and the 2 smaller ones on the other end-on each side of the large blade.
The American Blade Co. knife is 25 years old. Rooney bought it way back then, took it home, put it in his dresser drawer, and its been there until a few weeks ago. Rooney sent the knife to me-to give to one of you during my month of Thanksgiving Giveaways.
Since 1966 Rooney has given away 145 knives-this knife giveaway makes 146 knives that Rooney has shared with others over the years.
To be entered in Rooney's knife giveaway all you have to do is be a subscriber and leave me a comment saying so-that's it. The chance to enter this giveaway ends on Saturday Dec 3rd-but stay tuned for a few more giveaways during this November Month of Thanksgiving Giveaways to the readers of the Blind Pig & the Acorn.
Being a subscriber means everyday when I publish a new post-you'll be notified by email. Subscribing is free. Once you click on the subscriber link and fill out the information-you'll be sent a notification by email-you must open the email and click on the link sent to you to activate the subscription and become a subscriber.
Tipper