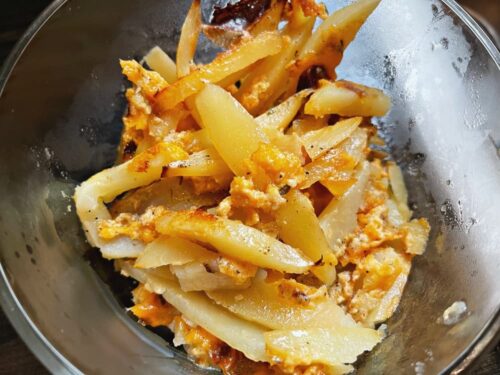 I've been cooking since I was a young girl. There's a few things I learned to cook when I first started that I'm still fixing all these years later. There's also recipes I once cooked frequently that have fallen to the back burner.
Jim Casada and I are working on a joint cookbook and my preparation for it has caused me to revisit my favorite written recipes on a regular basis.
About a week ago I noticed a recipe I'd written down for cheese potatoes. My cousin gave me the recipe. She always made them for our get togethers and I was happy to scarf them up when she did.
After she shared her recipe I made them for us often, until for some reason I just quit making them.
We all gathered at my nephew's house for Easter dinner and my contribution was to bring rolls and a side dish. I immediately decided to revive my old love for cheese potatoes.
Cheese Potatoes
4 large taters sliced into fairly thin french fries
1 small can evaporated milk (5 ounces)
1 cup of shredded cheddar cheese
salt and pepper to taste
1/2 stick of butter
Lay potatoes in bottom of baking pan. I like to use my glass 9×13 pan.
Season to taste. Pour evaporated milk over potatoes; sprinkle with cheese.
Cut butter into pieces and add to top of cheese.
Bake uncovered at 400 for 25-30 minutes or until done. I like mine a little brown around the edges.
The only thing I do differently from the original recipe she shared is to sprinkle parsley on before baking. I don't think it actually adds much taste, but it does make a prettier presentation.
Last night's video: Make Jelly From Weeds in Your Yard & Other Uses for Jelly.
Tipper
Subscribe for FREE and get a daily dose of Appalachia in your inbox