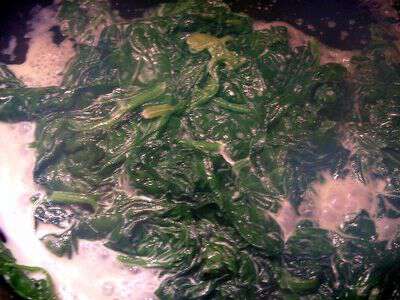 Growing up I was one of those picky kids, often declaring I DID NOT LIKE certain foods even though I'd never tasted most of them. Since I wasn't necessarily someone who was crazy about eating in the first place, my picky-ness held on tight until I was a grown married woman or truth be told till The Deer Hunter forced me to try some of the foods he liked or else! Spinach was one of those foods.
After I accepted spinach was indeed good to eat I came across a creamed spinach recipe and after making it a few times we realized it was our favorite way to eat spinach. The first recipe I used was somewhat complicated, but over the years I've narrowed down the steps required. If you're a creamed spinach fan you may have already streamlined the steps yourself or if you've never tried it here's an easy recipe to start with before moving on to the more complicated ones.
My recipe doesn't really have any set amounts for the ingredients, it's one of those taste as you go kinda things. It works well with fresh or frozen spinach. In a few weeks I'll be picking fresh spinach from my garden.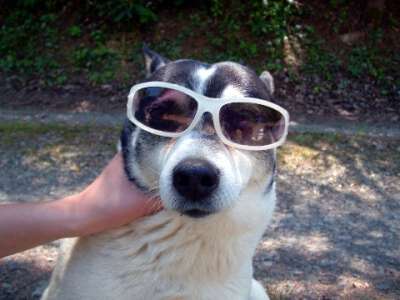 Since Wild Bill is King of my yard, I make sure to wash the spinach well. He actually likes the glasses and sometimes he wears a hat with them too.
I believe the first recipe I used back in the day called for boiling the spinach for a certain amount of time, but somewhere along the way I realized if you can eat it raw how cooked does it need to be? So I started giving the spinach a quick saute before adding the other ingredients.
Cook spinach in oil or butter for a few minutes.
Add additional butter, salt, pepper, and nutmeg to taste. Some folks add in garlic or onions, but we prefer just spinach. Cook while stirring for a couple of minutes till butter is melted.
Pour in some heavy cream. The amount depends on the quantity of spinach you're working with, but like the butter it doesn't take much.
Allow the spinach to cook a few minutes till it thickens slightly and you're done.
—–
Wild Bill took his journey earlier this year. He was my nephews' and niece's dog. I'm thinking he was here before Chatter and Chitter, if not then very soon after they were born. Either way he was at least 16 or more years old.
Without a doubt Bill was the toughest…and the craziest dog I have ever seen. We all miss him and his antics.
Tipper
This post was originally published here on the Blind Pig & the Acorn in 2010.