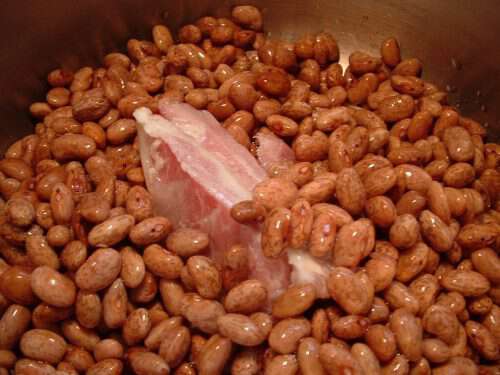 Probably our favorite make do dish is pinto beans, we call them soup beans. They're cheap-sometimes you can find a bag for less than a dollar. Pintos are also easy to cook, especially if you throw them in a crock pot and forget about them.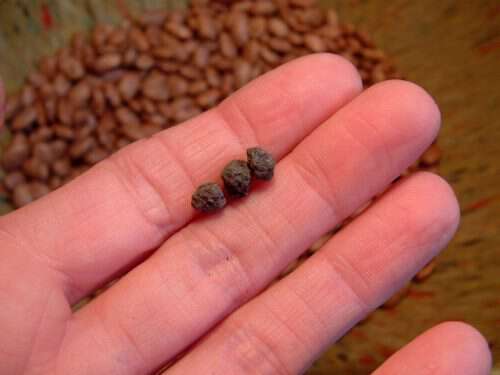 Granny taught me the first step to cooking pinto beans is too look them, which just means to look through the beans and see if there are any bad ones or any little rocks like the ones in my hand. Sometimes I find stuff when I look the beans other times I don't find anything but beans.
Next-rinse the beans off a few times.
The beans need to be soaked before you cook them. The easiest way to do it is too put them in a bowl, cover with water and let them sit overnight. That's the method I use. After a night of soaking the beans plump up. (drain water before cooking)
The other method of soaking is good for those days when you're in a rush or you forgot to soak the beans the day before. Place the 'looked' beans in a pot and cover with water, bring the water to a boil, and let boil for two to three minutes. Remove pot from heat, put lid on, and let beans sit for an hour. Drain beans before cooking.
Once your beans have been soaked it's time to cook them. A few different options:
Put beans in a large stock pot and cover with water and cook on top of stove. This is the method The Deer Hunter likes-he's anti-crock pot. The beans cook up great, but you have to keep an eye on the amount of water in the pot and make sure it doesn't cook out. The beans take several hours to cook.
Put beans in a crock pot and cover with water. Turn the crock pot on low and forget about it. If you put the beans on early in the morning by supper they'll be done perfectly.
My Uncle Woodrow made the best pot of Pinto Beans ever!! He cooked his in a big pot on his wood stove. I'm not sure if it was him or the wood stove, but no one could cook pintos like Uncle Woodrow.
You can cook pinto beans in a pressure cooker too-they get done fast that way!
After you decide which method to use you need to decide how to season the beans. I like to use a chunk of ham. When we have a ham I save every little piece that isn't eaten and freeze it. Then when I need a piece for a pot of beans I have it. Some folks add a piece or two of fatback/streaked meat. Others add a little cooking oil. Salt and pepper to taste keeping in mind the salt content of the meat-if you use meat.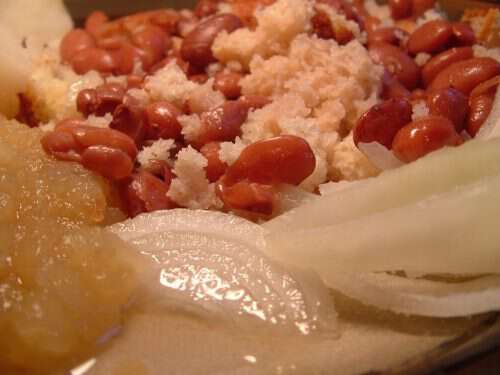 Once the beans are done add a cake of cornbread, some stewed potatoes, an onion, a jar of applesauce and that's supper for us.
If you cook a bag of beans it makes a lot of beans. I usually cook the whole bag. We eat them for at least two nights and I freeze the rest for one of those busy days when I don't have time to cook. I can warm up the frozen beans and add the rest of our favorites pretty quickly.
Sometimes I'll freeze the leftover beans in smaller quantities so we can add them to chili or soup.
Anyway you look at it pinto beans is a cheap and tasty meal. Hope you'll leave me a comment with your thoughts or tips on pinto beans.
Tipper
p.s. Everyone has their favorite way to eat pinto beans. I like mine mixed up with crumbled cornbread. The strangest way I ever seen someone eat theirs-they mixed mayonnaise with their pinto beans.