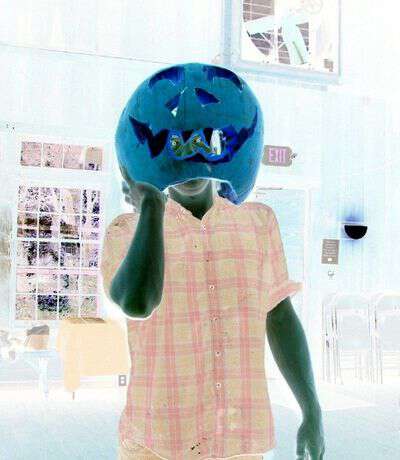 Over the last few days, folks who celebrate Halloween have been carving pumpkins into jack-o-lanterns. The famous Jack-O-Lantern started out as a lowly turnip or beet. In the old days, folks in Ireland predominately used turnips and sometimes beets to make lanterns. Once Irish immigrants made it to the US they quickly realized the Pumpkin made a far better lantern than the turnip.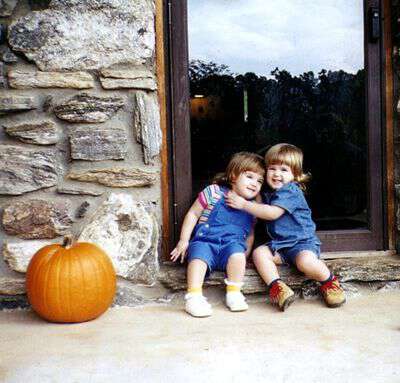 Chatter and Chitter are too old to care about carving pumpkins these days and when they were little I wouldn't let them-mean uh? Oh they got to carve pumpkins at the folk school and other community type functions, but not at home. Sometimes I'm frugal beyond reason and maybe pumpkin carving is a prime example. I just could never bring myself to waste a perfectly good pumpkin. I'd let the girls decorate the outside with stickers or better yet just admire it as it sat among Granny's crocheted jack-o-lanterns. Then as soon as Halloween was over I'd put it in the freezer.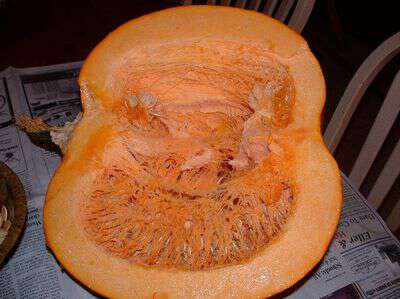 First I cut the pumpkin into manageable pieces.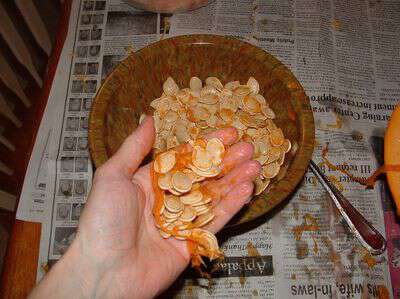 Next I use a spoon to scrape out the insides making sure to put all those sticky seeds to the side to roast later on.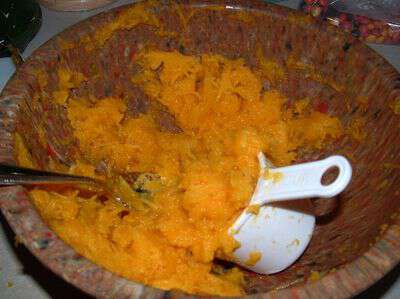 I place the pumpkin pieces on a cookie sheet or roasting pan pour some water (about a half a cup or so) around them and bake at 350 till done. It takes a while, after about 45 minutes-I start checking to see if they are soft yet. The length of time it takes depends on the size of your pumpkin pieces and the heat of your oven. (some people coat their pumpkin pieces with oil before roasting)
Once the pumpkin has cooked-I scrape it from the shell into a bowl and mash it with a potato masher-you can also use a food processor if you'd like a smoother texture. Next I freeze it in the amounts I need for the pumpkin recipes I make most often.
To roast the seeds-wash the gunk off of them-dry on paper towels-place them on an oiled/buttered cookie sheet and stir to coat-roast at 350 for 10 minutes or until lightly browned. Before roasting you can sprinkle them with salt and/or any other spice you like. Store in an airtight container.
Did you carve a pumpkin this year?
Tipper