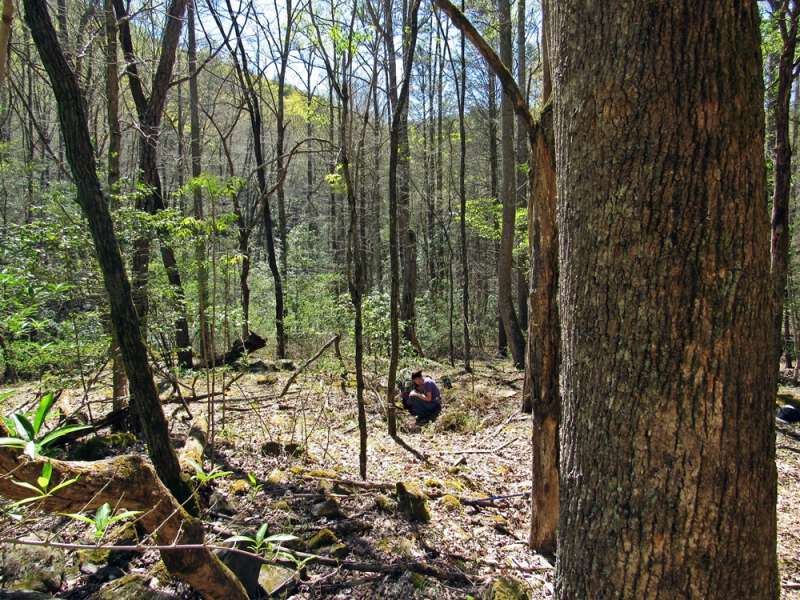 All my life an old homeplace up the creek has been called The Pear Trees. No pears there in my lifetime, however there were pears there when Pap was a boy.
The settlement that was once up the creek lived large in Pap's mind. The Stameys, Hickeys, and Robersons, were people Pap knew and had fond memories of.
I would sit spellbound as a little girl when Pap told me about the houses that used to be up the creek, the people who lived in them, and the cars, wagons, and sleds that used to come right down by our house when he was a boy.
While Pap could remember when most of the houses were inhabited, like the folks who kept their cow in the cellar, there were a few places that had already been deserted by the time Pap was old enough to tramp through the woods on his own.
One of the places is just beyond Steve's house. Pap's father told him a family of Cherokee Indians lived in the house that once stood there.
The other place was The Pear Trees. Pap said there were still a few outbuildings standing and maybe a portion of the house when he was a boy. He remembered one time his best friend LC and him were caught in a horrible storm and they took shelter in one of the old buildings till the storm blew itself on down the road.
Imagining a treasure trove of old glass bottles I asked him if there were still stuff in the house or buildings. He said no someone had taken anything of value, even taking some of the better wood to use for whatever building needs they might have had. Pap said "But I did find one treasure there, well a treasure to a overall wearing barefoot boy, I found a nickel laying in the top of the corncrib. Can't even remember what I was doing or looking for but I laid my hand right on top of that nickel."
What Pap remembers most is the bounty of fruit that could be gotten from the old homeplace. There were the pears that gave the site its common name in addition there were plums, apples, chinquapins, a sort of bush with edible things on it that reminded Pap of grapes but wasn't, and there was a mulberry tree.
Pap said one time Harold Kernea, the Crisp boys and him climbed high up in the mulberry tree and ate to their hearts content. Well everyone but Pap ate to their hearts content. After eating for a while Pap noticed the mulberries had little mites on them and that turned his stomach from eating them.
I asked Pap if they harvested the fruit from the homeplace every summer. He said most every year Papaw and Mamaw would go get some or his grandmother, Big Grandma, would get him to go with her and help gather. Pap said any time he was going by the place during a fruiting time he'd take his shirt off and make a sack out of it and take his mother and Big Grandma back anything he happen to find that was ready to be picked.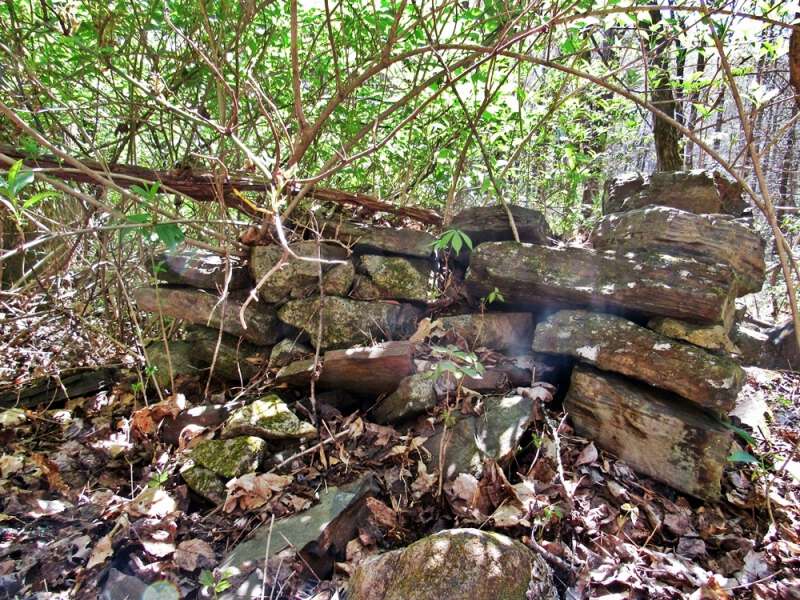 Old chimney at The Pear Trees
Today the only thing left at the The Pear Trees is remnants of the chimney, a portion of the rocked spring house and a few other piles of rocks left from clearing fields for new land. It's a beautiful place with a good peaceful feeling about it.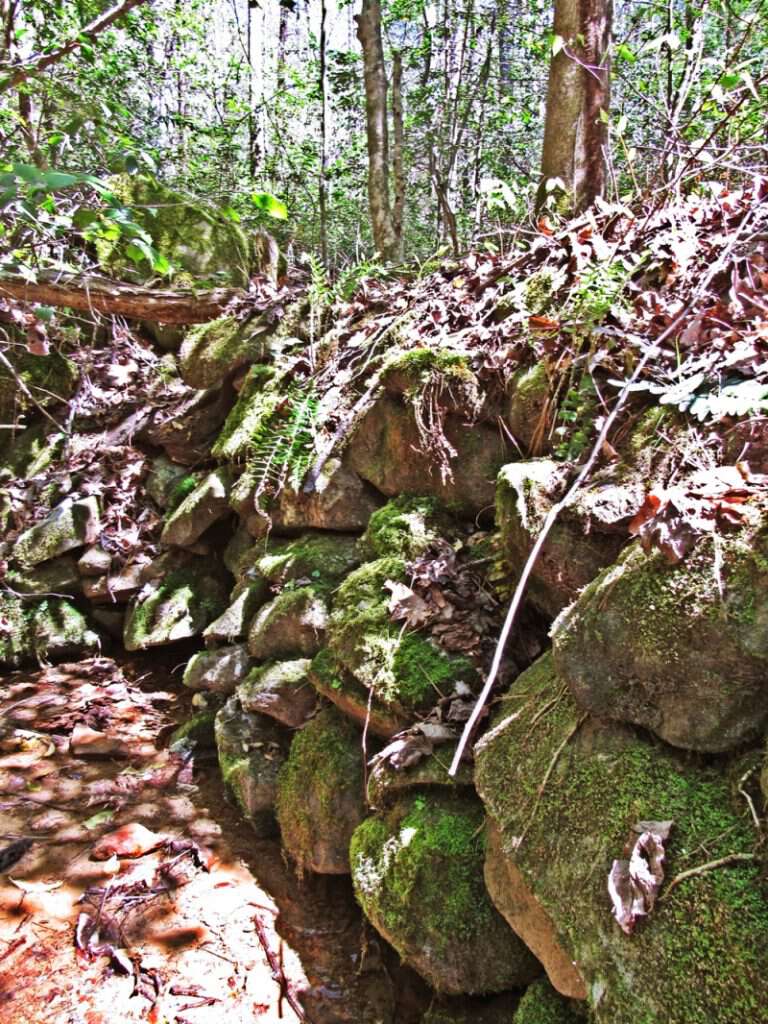 Rocked spring at The Pear Trees
My whole life I've wondered about the people who lived there. Having such a bountiful fruit garden makes them seem like they were well off. They certainly had an eye to the future, since many trees take years to finally produce the way you want them to. Yet they disappeared without a trace by the time Pap was harvesting the fruits of their labor. Not even a memory left to be passed down from Pap's father or grandfather like the one about the Cherokee Indian family.
Tipper