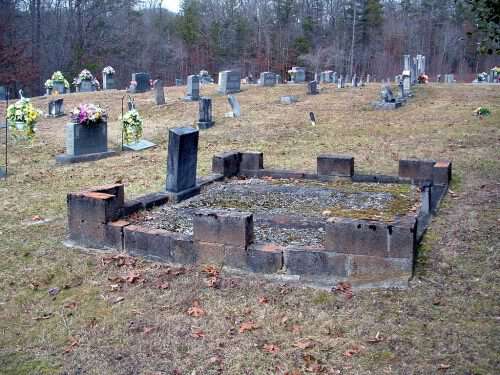 A while back I was wandering around the graveyard at Pine Log Baptist Church in Clay County NC. I have several family memebers buried there-but I had never noticed the unique grave above on past visits.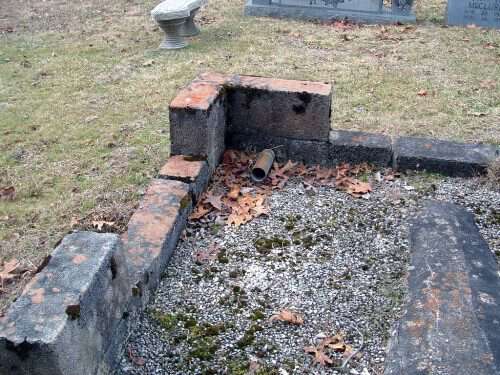 There is one gravestone surrounded by a foundation of sorts. The foundation made me think of Grave Houses-and I wondered if maybe over time the walls and roof rotted away-leaving the blocks and concrete behind. Since Pap lived in the Pine Log area for part of his childhood I asked him if he remembered the unique grave-he didn't. The grave is in the cemetery on the hill across the road from the church. There is another cemetery just below the church.
Pap did tell me the grave is in the older of the 2 cemeteries. The first church built in the area was in the older graveyard-then when the newer church was built it was moved across the road to the present location.
One corner had a metal pipe sticking through the block. And there are 2 long poured concrete pieces which seem to symbolize-or cover 2 graves.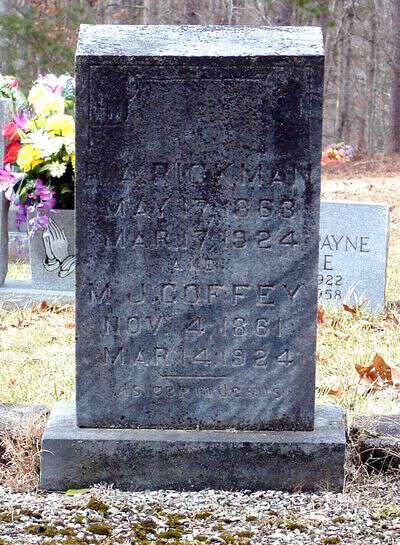 The stone is also a mystery. There are 2 names on it: R. A. Rickman May 17th, 1863 – March 17, 1924 and M. J. Coffey Nov 4, 1861 – Mar 14, 1924. I say the stone is a mystery-because it makes me wonder:
Why one stone for 2 graves? Someone said they were probably married-but I don't think so since their last names are different. Maybe the families chipped in and bought one stone together?
Why were they buried together? Were they related or maybe best friends?
Did they die in a freak accident-with R.A. living 3 days longer? Or maybe they died in the flu epidemic?
The block foundation looks newer than the date of the stone-so does that mean someone built the house or foundation at a much later date?
Pap says there used to be a lot of Rickmans around here-but I can't think of one now. However there are a lot of Coffeys who still live on Pine Log and maybe one of them can solve my mystery or who knows maybe you can.
Tipper