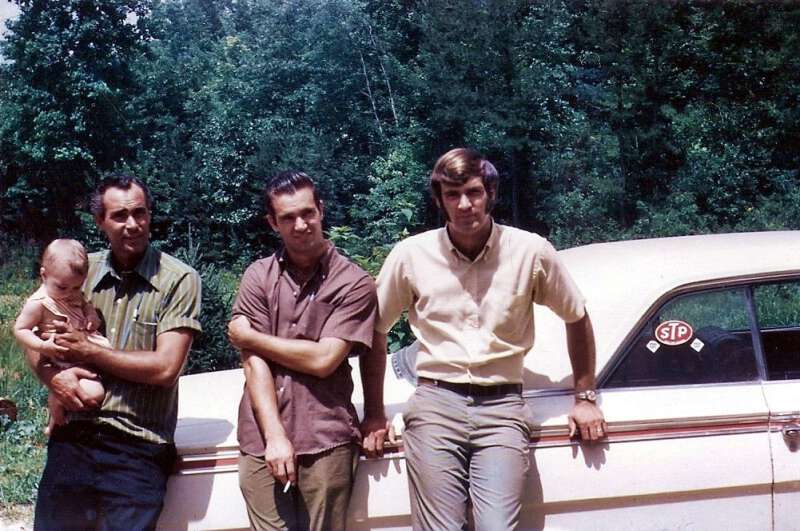 Pap holding Tipper, Ray, and Henry
A few weeks back I told you about the John C. Campbell Folk School's newest cd Nighthoots and Morningsongs Volume 2. The two part anthology features live music from various artists at the Keith House and Festival Barn on the JCCFS Campus. We were tickled pink to find out track 8 was a recording of Pap, Paul, the girls, and me playing Rock of Ages at a concert at the folk school.
The news about the cd jogged Paul's mind to another Rock of Ages song. I'll let him tell you about the other song.
One Rock of Ages deserves another. Last week, we uploaded a live recording of trio-version of Rock of Ages recorded at the JCCFS. My mind drifted back to an old reel-to-reel radio broadcast by Pap and his brothers of another song, I believe the official title is Hide Me, Rock of Ages, but I've always thought of it simply as the other Rock of Ages. I copied the cut onto a cassette tape around 25 years ago, but a friend of mine lost the copy, and the reel-to-reel player that I used died while I was finishing up all the media transferring that I was doing. A week ago, I was able to buy a functioning reel-to-reel from someone on Ebay. It came yesterday, and last night I found the song and made a digital copy. The volume comes and goes due to tape deterioration. This recording is 50-55 years old, I think. I love my Uncle Henry's guitar work on the cut. Most guitarists don't particularly enjoy playing in the F position, partly because the high chord is B flat. Somehow, F position seemed to suit Henry just fine. The vocals on the recording are completely "dry," with no reverb. Henry's guitar amp seems to have been set with generous reverb, which helps it cut through the muffled come-and-go audio on this old tape. I let Chitter listen to the recording, and it was interesting that it took about 15 minutes to explain to her what a reel-to-reel recorder is. I sometimes forget that people in their early 20's have always lived in a digital world. I do not know who played upright bass during the radio broadcast, but he did a good job. In the group photo, Pap is on the left, holding Tipper; Ray is in the middle; Henry is on the right. I believe they are leaning against a '64 Impala that Pap had at that time. Anyway, I hope you enjoy the old song from "the archives."
I hope you enjoyed the old recording. As Paul went through the old reel-to-reels from Pap's early music he found all sorts of gems. Most of the finds are music, but the recordings captured more than a few conversations and other tid-bits of talking. Pap and Granny would go in the back room to sing and get away from the racket of us kids. On one recording Paul found you can hear a little Tipper come into the room to tell them she's worried a storm is coming. They assure me it will be fine and tell me to go back out and shut the door. In a few minutes I'm back telling them I hear the wind a blowing and a storm really is coming.
Tipper