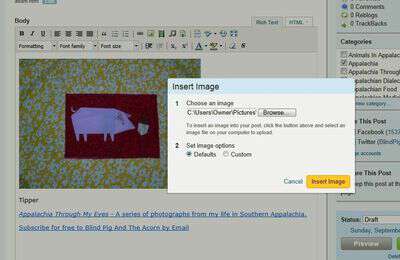 When I first started the Blind Pig the only internet service available in my area was dial up. Almost 5 years later-there still isn't much of a choice.
Our county is ahead of most parts of Appalachia-we have fiber optic high speed that services all of our schools-including the local community college. And if you're lucky enough to live along the lines between the schools-guess what you can have it too!
Wilson holler is not along the right power lines-even though we are fairly close, as the crow flies, to one elementary school.
In 2009 the girls were having more homework that had to be done online-and the Blind Pig was growing-so we bit the bullet and went with Wild Blue Satellite internet service. We've were mostly satisfied-it isn't as fast as most services but its a whole heck of a lot faster than dial-up.
We recently heard Wild Blue had developed a new system-with faster speeds all for the same price. The program is under a new company called Exede. I'm still not clear if its owned by Wild Blue, if Wild Blue is owned by it, or if they are one and the same.
Anyway-I called our local company who installed our service 3 years ago to sign up. They called me back twice asking me to verify our information-then I didn't hear a word from them for over a week.
When I called asking about the status of our installation the gentleman informed me our account information had been rejected by Exede. I said "Hmmph! I wonder why? I mean you don't know me from Adam but my credit is good." He said "What?" After I explained it a few more times I finally realized he didn't have a clue what I meant about Adam, so I left that part out and he understood me clearly, advising me to call Wild Blue directly.
Is high speed internet hard to get in your area? Do you know what I mean about Adam?
Tipper
Appalachia Through My Eyes – A series of photographs from my life in Southern Appalachia.