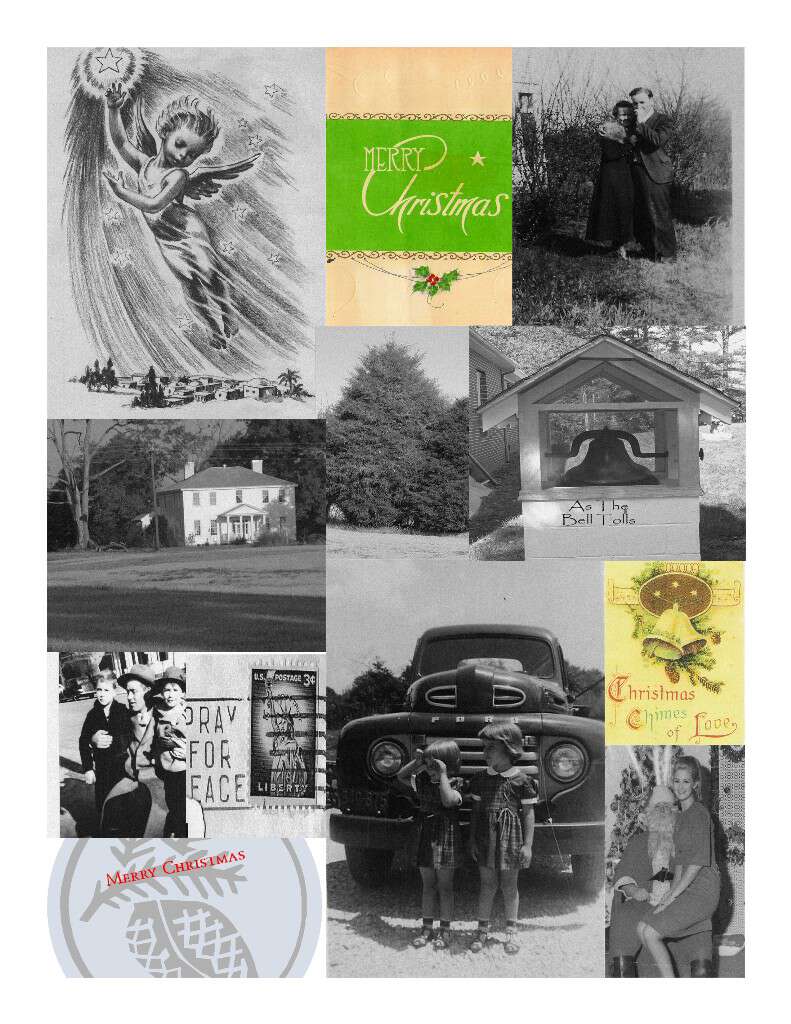 Christmas Time near the Foothills of the Great Smoky Mountains written by Mary Lou McKillip
This is very true story that took place in the Mountains of Marble North Carolina. The year was 1959. There was a blizzard of snow on the ground, but us old mountains folks never let snow keep us put in the house. Matter of fact we had deep snows in the winter while I was growing up and we never would have labeled this one a blizzard but now days it would be.
Before lunch we opened packages and were amazed with all the goodies. I got a box of chocolates and a necklace from my boyfriend Ed. We couldn't wait to eat Miss Julie's turkey and dressing and apple pies along with other food stuff on the table.
I was so much in love or I guess you could say I had more stars in my eyes than love in my heart. Dad had bought me an old Chevrolet car (1954). That thing would run like a salty dog. My boyfriend was working on him a car. He braved the weather to come see me. He only lived as city folks would say three block away in the big town of Marble.
We watched the birds feed on an old crude piece of tin over saw horses. We had one bird come back three years who only had one leg, sure enough High Pockets was there feasting on bird seeds and dried cornbread. While sitting watching the bird I wrote a song: It is snowy in the mountains of Caroline the ground a blanket of snow, the poor little birds they have no home while we sit in a warm cozy house.
We arose and went to the dining room for more entertaining while I sat down at the piano and struck up a tune for my song. My friend seemed to enjoy or pretended he did anyways. I became bored and said, "Hey let's take the car out for a spin." Miss Julie had big ears that evening after lunch and voiced her opinion right away. My mentor (Dad) chimed in and said, "Miss Julie let the kids take the car out and Ed can drive."
She knew when she had lost the vote and away we ran to get started. Last thing I heard Miss Julie say was get your heavy coat and may God be with you two nuts. I bet Dad got the third degree for allowing us to go, but God does take care of drunks, idiots, and babies.
We went across the railroad tracks and never slid once. We got out on the main drag of Marble where we saw another idiot who was drunker than a skunk. He was sliding all over the road and I just knew he was going to hit us and tear up my car. We couldn't turn around and when we got up near him he slid over to the other side and licked out his false teeth at us.
We had laughter on a cold day mixed with fear and pleasure. We finally got turned around and headed for home. We made it fine until we started back across the railroad track. Ed tried and tried but we were stranded. I tried to think of a way to get us across the track. Ed said we need some traction "Does your Dad have any toe sacks in the barn?" I didn't want to leave the car at the mercy of the drunk, but I had no choice. We bailed out for the barn and got some toe sacks for traction and in no time we were back home safe and sound.
Telling the story was a delight for me. We had Miss Julie and Dad in stitches for over an hour. Miss Julie was concerned for the drunk. I was too. I ask God to take care of him and p.s.  for him not to lose his dentures.
This is one memory of  many in my book of memories on Christmas Day.
Mary Lou McKillip
——————
I hope you enjoyed Mary Lou's Christmas memory as much as I did!
Tipper