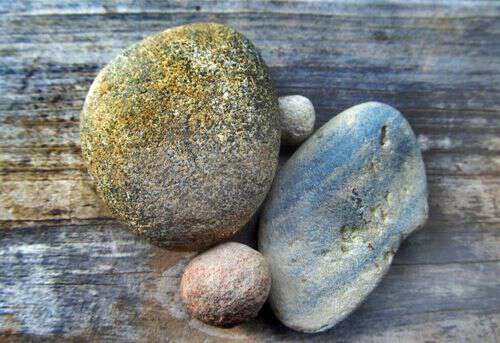 Many of the stories Pap tells are about his childhood days. As I was helping Granny in the back room the other day I heard him telling the girls a story about his Daddy, my Papaw Wade's childhood days.
Once I realized he was talking about Papaw Wade's youth I stepped into the hallway so that I could hear better. It was a story I had never heard before.
Papaw Wade's father and mother were from Madison County NC. In Papaw Wade's early childhood the family seemed to jump back and forth between Madison County, Graham County, and Cherokee County.
Pap said "Now girls my Daddy was from Madison County and he told me how he and his buddies made marbles. Now listen close because as much as you two like rocks you ought to like this. There are lots of waterfalls in Madison County, even more than there are here. Daddy said they'd find them a good handful of small roundish rocks and then they'd fix them in a trough't in the bottom of one of those waterfalls. See the water would wash and tumble them up and over up and over, just like that rock tumbler you got at home. There weren't no electricity in those days to run a rock tumbler even if you had had one. But Daddy and his partners figured out how to make their own rock tumbler to make their own marbles. Now the marbles he made weren't perfect like the ones made by a machine, but if they was all you had and all you'd ever known I'd say you'd like them pretty good."
Bet you can guess what the girls wanted to do after Pap told them that story. Have you ever heard of making marbles from waterfalls? Pap said he bet it was a skill learned from the Cherokee.
Tipper