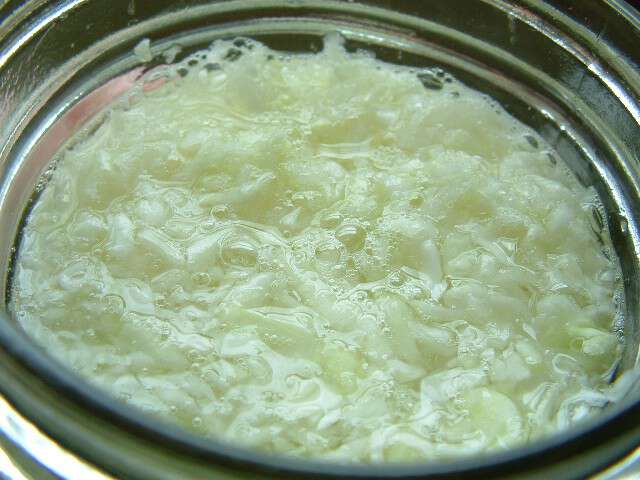 Two weeks ago we made kraut the old timey way-yesterday it was ready to can. It's normal for a skim of mold to form on top of the liquid in the crock-you can see what was waiting for me as I took the towel off.
First-take the weights out-then take a large spoon or spatula and get the mold off-discard mold.
Next take the plate that was pushing down the kraut out. Remember the large cabbage leaves I put on top-I discarded them too.
You can use a spoon, cup, or bowl to dip out the kraut and place it in a large stock pot-or in your canner. It may not all fit at once-mine didn't.
Place the pot on the stove and heat the kraut to a simmer. If you don't have enough liquid-you can add water.
While the kraut is heating up-you can begin sterilizing your jars-lids-rings. Some folks use the oven-some their dishwasher-I just use a pot of simmering water.
Once the jars and kraut are hot-you can put the kraut in the jars. I like to make sure there is enough liquid in each jar to cover the kraut. After each jar is filled place a lid and ring on it.
When you get to this point of the process you have 2 choices:
*We use the open kettle method of canning the kraut-which means the kraut is hot-the jars are hot and once you put the hot kraut into the hot jars and add the lids and rings-they seal as they cool. Both my family and The Deer Hunter's family have used this method for generations-so we feel comfortable with doing it. However-if you do any research on the method-you'll see modern day instructions warn you the open kettle method of canning should never ever be used to preserve anything.
*Your other choice-is to place the jars of kraut in a hot water bath. The Ball Canning Book says too: process pints 15 minutes and quarts 20 minutes in a boiling water canner.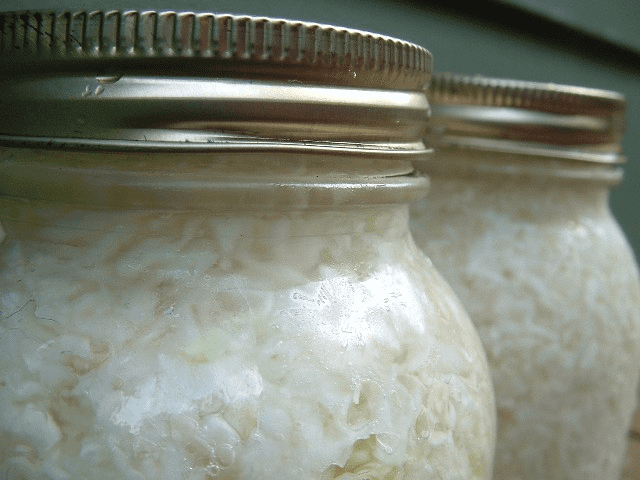 I ended up with 14 quarts and 1 pint of kraut. I think it's the best we ever made-it was crisp, white, and so yummy. Most of all I love that we grew the cabbage.
Tipper