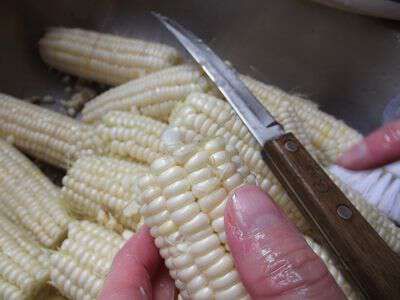 Over the last week we've been enjoying one of the delicacies of summer-fresh corn straight from the garden. We always plant Silver Queen and a few rows of field corn. I don't know what variety the field corn is-Granny and Pap save the seed from year to year-a friend of theirs gave it to them years ago.
We use the field corn to make hominy with-and the Silver Queen we eat till we can't hold any more. I've always been intrigued by corn-not just cause I like to eat it. I'm fascinated by it's growth. From the moment it reaches it's 2 tiny arm like soft leaves towards the sky almost seeming to pray the crows don't see it-till it's sweet juicy ears lay in my supper plate.
One of my favorite stages of corn growth occurs when the tassels are long and full. Since I was a kid-I've liked to go deep inside the rows and listen to the bees doing their job. See if you don't like it too:
I hope you could hear the bees at work. Seemed like once I started videoing every jar fly in the holler started up. Along with my corn interest-I've also always been fascinated by bees-especially honey bees.
When we were little-me and Paul shed our shoes during the summer months. It was common for one of us or sometimes both of us to be sporting a swelled foot from stepping on honey bees while playing in the yard. Now I hardly see them in my yard.
Even with my multiple stings of summer-I never became afraid of bees. One of my younger cousins, Maria, was terrified of bees-I guess she still is. When we'd play by Mamaw and Papaw's old garden site I'd find a cuckle bur and stick it on her back or in her hair and she'd run around like someone was killing her-thinking it was a bee. Kinda sounds mean now. But she knew I loved her most of all.
You can find all kinds of recipes for corn-from puddings to casseroles. But our favorite way to eat fresh Silver Queen-is on the cob. We get a pot of water boiling and drop the ears in-only takes about 3 minutes for them to cook to perfection.
Later on I'll show you how we cook the corn we put up each year. And as soon as the field corn comes in I'm going to make Pap's other recipe for gritted bread and see if I like it better than the first one.
So-what variety of corn is your favorite? How do you cook fresh corn? Do you like bees?
Tipper