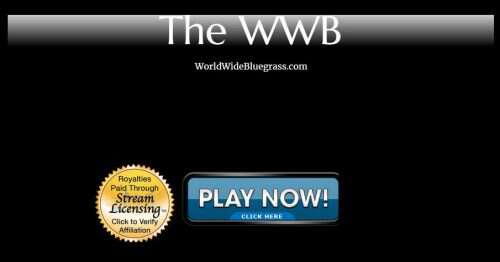 I discovered World Wide Bluegrass shortly after I started the Blind Pig. From the start I was mesmerized by their streaming music-but once I got brave enough to enter their chat room and find out more about the organization I was totally blown away by their combined dedication to Bluegrass music-and to the artists who play it. The music itself is reason enough to be a fan of World Wide Bluegrass-but once you realize the djs playing the music are all volunteers who are spread out across the world-it takes on such a close knit family feeling that you cannot resit it.
Once the idea of having a series of posts on music in Appalachia started running around in my head-I knew World Wide Bluegrass should for sure play a role in the series. Gracie Muldoon, founder of WWB, suggested I interview Vicki Abbott-who has been with the organization from the start. The interview turned out great-hope you enjoy it as much as I did.
—————————
Vicki can you tell us a little about WWB-how it started-what it represents-how it works?
WorldwideBluegrass.com has had quite a journey to where we are today.  It didn't start as the WWB, but was one of several stations, which was the brainchild of a fellow who created one website with separate on-line radio stations of different genres consisting of shows that were broadcast live. After leaving one of our local terrestrial stations in the Cincinnati area, Gracie Muldoon discovered this newly forming network of on-line stations, became familiar with the owner, and he put her in charge of the bluegrass station. Being the sole DJ of this new bluegrass station, she immediately put out e-mails looking to recruit more volunteer DJs. To me, this all was still a very new concept. I remember the website owner used to tell us how, in the very near future, our on-line station would be available on cell phones and eventually on car radios. Each DJ broadcasts from their own home studio using their own computer. Getting the software set-up for broadcasting and trying to work out the bugs was very frustrating. Things didn't work identically on every computer and stepping through the whole thing via telephone made it difficult not being able to visually see how things were supposed to look and act. I wasn't the only DJ who nearly quit in the process. Most of us weren't computer gurus, but we persevered, discovering and understanding things together as we went along. And every new DJ that came on board was able to contribute to our efforts, helping to make the workload of the station operations a little easier on the rest of us. After a very rocky, roller coaster year or so, the website started to fold, but the bluegrass station was thriving. We had several DJs and faithful listeners by this time and none of us wanted to see it lost. Since its inception, The WWB has always been volunteer-driven and listener supported. We're grateful for the full support of the record labels and the artists. And we're especially proud of the fact that we've been able to introduce to the world many regional bands who otherwise would never have had the opportunity to be heard by such a widespread audience.
How long have you worked for them?
I've been DJing for 4.5 years now. Gracie Muldoon was the station manager of the bluegrass radio station and was recruiting DJs. I didn't have any DJ experience but she convinced me it was just like sitting in your living room and talking to folks and spinning your favorite bluegrass tunes. I was something like the third or fourth  DJ coming on right about the same time as Uncle Billy Dunbar.
Did you grow up in a family where music was important?
Actually playing music was not a part of my childhood, but my parents listened to the radio and albums and watched the Cincinnati TV program, "Midwestern Hayride" every weekend.  So the music was always around us. Names like Bill Monroe and Jimmy Martin were familiar to me. When I was in 4th grade, we took a vacation and went down to the Grand Ole Opry. I remember seeing String Bean perform. Just recently, as we were helping my mother move, I found a cardboard fan with a picture of Jesus and sheep on it that my parents had bought for me on that trip. It had lines on the back of it for writing in the name of the performers. My mother had written the names of who we saw. I couldn't believe it included Bill Monroe! I'm really embarrassed to admit that I don't remember seeing Bill Monroe!  But I guess at 9 years old, String Bean's outfit made more of an impression on me! LOL I do remember being in about the fourth grade and hearing my classmates talk about current rock and roll music and I had no clue what songs they were talking about because we never listened to rock music at home. So for my birthday, I asked for my own radio to put in my room and I began listening to rock. It felt strange but soon became my music of choice.  And that's about my earliest memories of listening to something other than country or bluegrass. But I still heard plenty of that anytime I rode in the car with my parents or as dad tinkered around the house. I don't think I started listening to bluegrass again until the late 1990s when I happened to stumble upon a small, local public station that played all genres of music. The bluegrass/classic country shows were scheduled Monday through Saturday from 8:00am till noon, so that's what I started tuning in to every day after getting the kids off to school. And that's what really brought me back to bluegrass. So I'm still playing catch-up on all those years I missed out on, all of the history of the artists and the music.
Do you feel the popularity of old time-traditional-bluegrass music is on the rise or decline?
Well, judging from the amount of music we receive at WorldwideBluegrass.com, bluegrass is alive and well! I think like most genres of music, it has its niche. But to me, there's an ability across generations to share the old time-traditional-bluegrass music that you don't see so much other genres. There's also a freedom in the playing of acoustic instruments vs. electric. It's a music that invites the young and the old, the new and the experienced players to come together and share in the joy of playing together. So that sharing and passing on the tradition keeps it alive. Since I missed out on it during the time I was raising my kids, I'm hoping I'll have an influence on my grandkids! I'm already wondering which one might do well at playing which instrument! I'm hoping we might even have a fiddle player.
It seems to me-that old bluegrass standards continue to be performed and recorded by the bluegrass artists of today-while other genres of music concentrate on newly written material. Do you agree? If so-why do you think this is true-I mean do the words of those old songs speak to us in a way that lasts through the changes of time?
Yes, there are lots and lots of old tunes that continue to be performed and recorded, but there's a bunch of songwriters and artists out there who continue to crank out some really great new material. And that's exciting. But if you attend very many bluegrass jams, it's those older tunes that everyone is so familiar with that you'll hear at every one of them.  And since I started playing bass a couple of years ago and attending jams, I've become even more aware of that. And that's what enables folks who have never played together before to jam all night long. Plus, the fact that most bluegrass tunes consist of three chords makes it much easier to play with no written music. And that part amazes me, that you can create so many different songs that only use three chords and that folks can come together and play so many songs and sing so many words, all from memory. Totally amazing! And for those of us who are old enough to have experienced a simpler time, or who have had stories told to us by our parents or grandparents about their lives in a simpler, but yet harder way of life, yes, I think those older songs remind us of a different time, either personally or in knowing someone who remembers.
When you think of music in relation to Appalachia what comes to mind?
In my mind, I always see folks who didn't have many of the finer things in life. I always think of folks who relied heavily on providing for themselves, because they had to. Lots of hard work to make sure food was on the table, and then spending the evening sharing in family time and music. Not that the music was a part of my family's history, but for many, it was.  And a lot of that music was about the life they knew so well. It's a great history lesson and also a great reminder of how far we've come. And I think there's a sense of pride and inheritance for those of us who know that so many of these songs are about things that touched the lives of our own ancestors, if not ourselves.
Are there any up coming programs or news from WWB you'd like to tell us about?
Yes! We're very excited about a new program you can catch every month on World Wide Bluegrass. We're partnering with Bluegrass Music Profiles to present their monthly Top 30 Hot Singles. A different DJ will broadcast that about the third week of every month. Be sure to watch the home page for which DJ will be presenting the Top 30 program for that month. Also, check the "Interview" page. Several of our DJs do live and pre-recorded interviews. And while you're there, stop into our family-friendly chat room. We have a fantastic group of frequent WWB listeners and chatters. So many of them have become like family. And you never know which bluegrass artists you might find there, too! Also, mark your calendar for August 12, 13 and 14 for our Fourth annual Grass Stock 2010 which will be held at Terrapin Hill Farm in Harrodsburg, KY, www.GrassStock.com.
WorldwideBluegrass.com is listener supported and this is our major fundraiser for the year.  Our entire staff is volunteer but we do have operating costs such as our internet streaming and hosting and our royalty fees. We already have 30 bands scheduled to appear at this year's festival. And we're really excited about this year's raffle of a brand new Martin D-28 guitar, courtesy of Old National Bluegrass and TheMandolinStore.com raffle tickets are only 10$ a chance. This guitar is valued at $3,000 and will be awarded Saturday, August 14th at Grass Stock. The winner does not need to be present to win.  Check with one of our DJs or you can print off a ticket and mail it along with your check to Old National Bluegrass at the address listed on the ticket. Print ticket here: http://www.grassstock.com/
The programs at WorldWideBluegrass.com are as unique as their hosts. We're bluegrass 24/7, but we currently have 26 international hosts doing 30 shows and 68 hours of live programming each week. We hope everyone will take a moment to check the schedule and tune in some time soon!
———————————–
I hope you'll jump over and visit World Wide Bluegrass sometime-and be sure to tell all your bluegrass loving friends about them too. It's free to listen-you don't even have to subscribe-just click and open your ears to the great bluegrass sounds.
Tipper