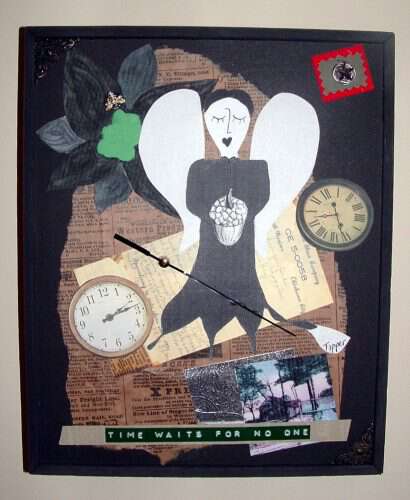 Time Has Made A Change In Me-is my latest folk art painting. It is a mixed media painting with acrylic paints on a canvas board. I just love the clocks!
As I get older I'm more aware of the significance of time and the ever increasing speed it passes by. With the busy schedules of today it seems we barely have time to cram all the activities and chores into a day, then fall into bed exhausted only to rise and do it all over again.
I remember as a child when summer vacation seemed to stretch ahead of me forever. Now when the girls get out of school there isn't enough time to do the things we want before it's time for the new school year to start.
Today I have a special treat for you. The Pickin & Grinnin In The Kitchen spot for this week is none other than Chatter and Chitter. They decided they couldn't let their cousins Guitar Man and Mandolin Man get all the spotlight.
The song is There Is A Time. Maybe it will help us make sure there is a time for the important things in life-like love.
I hope you enjoyed seeing my latest painting and the girls singing. Do any of you remember hearing the song before? Leave me a comment and tell me if you have. I'll even give you a hint- you probably heard it on t.v.
Tipper