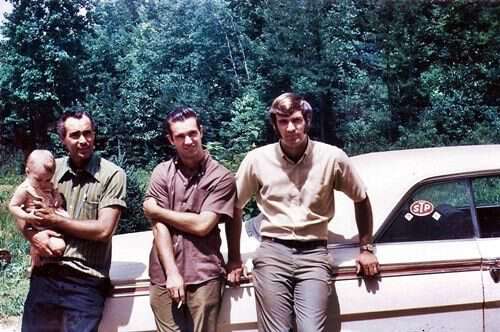 Pap and Tipper, Ray, Henry 1971
Since Pap's death Paul has tried his best to make sure the songs Pap wrote continue to be sung. Hopefully his efforts at broadcasting the songs to a larger online audience will ensure they survive.
One of the first songs he published was a video of Pap's original song "He Showed Me What Was Best For Me." When you listen to the song you can see why The Wilson Brothers were often compared to The Louvin Brothers.
Here's a short quote from our youtube channel where Paul posted the video in November of 2016.
"The press date on the LP that featured this song is 9/18/73. The song was probably composed a couple years prior to that. This song features Pap on the high tenor vocal, his younger brother Ray on lead vocal and rhythm guitar, and his youngest brother Henry on lead guitar. The bass player and snare drum player are unknown. If anyone has information on who those musicians were, please send us a message. The original song "Words of Life" served as the title track for the album and as the title for The Wilson Brothers broadcast on multiple radio stations through the 70's, 80's, and 90's."
Paul got someone to make a cool video that highlights the song lyrics-check it out.
Hope you enjoyed the song and I hope that each of you have a great Sunday!
Tipper
Subscribe for FREE and get a daily dose of Appalachia in your inbox