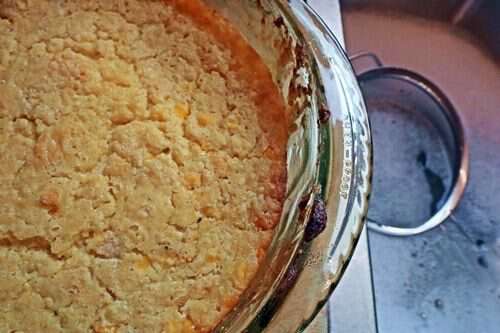 I had never eaten corn pudding until a few years back when one of our friends made it for a get together. The girls and The Deer Hunter went crazy over the dish, but somehow I never got around to making it. I guess Chatter realized I wasn't ever going to get it made so she started making corn pudding herself. Here's the recipe she uses. Chatter got the recipe from a lady who works at the John C. Campbell Folk School.
Corn Pudding
1 box jiffy cornmuffin mix
1 can creamed corn
1 can whole kernel corn
1 small sourcream
1 stick butter
Place both cans of corn (undrained) in a casserole dish; add jiffy mix and sour cream and mix well.
Melt butter and pour on top (do not mix butter in).
Bake uncovered at 350 for 50 minutes and enjoy!
If you're not into buying boxed mixes a quick google will tell you how to make a substitution for jiffy mix and you can even make it gluten free.
Have you ever eaten corn pudding?
Tipper
Subscribe for FREE and get a daily dose of Appalachia in your inbox