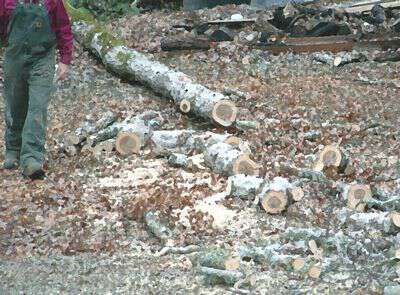 An excerpt from It's Not My Mountain Anymore written by Barbara Taylor Woodall:
Dad was quiet, tall and lanky, dressed in baggy, bibbed overalls and work boots. Sawdust settled between the leather laces and on his sweat-stained hat. The dusty hues contrasted with jet-black hair and chinquapin eyes that darted about with sharp glances. His smooth, shaven face was tanned, but roughened by mountain elements. His long-term commitment of love and responsibility fueled muscle and sweat to feed, clothe and shelter the family. His diploma was calloused hands.
A diploma of calloused hands: makes me think of more than a few fathers I know-respect-and love-including my own. A diploma of calloused hands: makes me think of shaking hands with men whose hands feel like a solid piece of cord wood.
It also makes me think of something one of The Deer Hunter's friend told him not too long ago. He said "You know-I have a master's degree and I'm surrounded by folks who have at least the same level of education as I do-if not more. Yet when I can't figure out something-you know who I ask to help me? My Daddy who didn't even graduate high school. I swear he's the smartest man I ever met."
Tipper
p.s. If you can't wait to read the book yourself-click on any of the links above (title of book in orange or Barbara's name in orange) to jump over and buy your own copy!