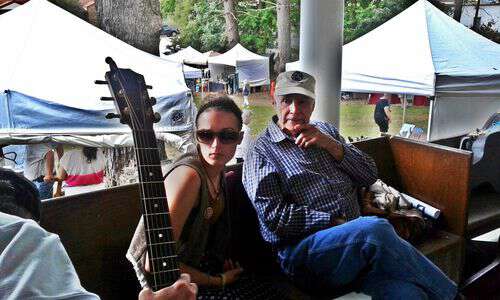 More than a few of you have recently asked how Pap's doing these days. He's doing great! He's back to his pre-hip break/heart attack health.
Back in August he took the stage with us again for the first time. We were playing at the Hiwassee Dam Opry and he came on stage to sing 2 songs. He didn't feel like playing a guitar that night but since then he's joined us on stage 2 times to do some picking and singing just like he did before his accident.
Here's a video from the show back in August. It starts out with a little humor from The Pressley Girls as a discussion about which microphone Pap should use is going on.
I hope you enjoyed the video. Just so you know I credit Pap's good health to all of you who said a prayer for him and sent good thoughts his way. I'm still awed by the overwhelming show of support you showed us.
I'm hoping Pap feels up to playing with us next Sunday October 4 at the John C. Campbell Folk School. We take the Festival Barn Stage at 2:00 p.m. If you make it to the show please come up and say HELLO we'd love to talk with you! We usually congregate just to the left of the stage as you go out the back of the barn.
Tipper