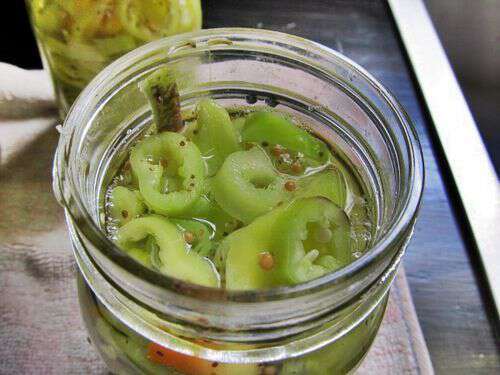 Did you ever try to say this tongue twister?
Peter Piper picked a peck of pickled peppers;
A peck of pickled peppers Peter Piper picked;
If Peter Piper picked a peck of pickled peppers,
Where's the peck of pickled peppers Peter Piper picked?
I could never ever say it all the way through and I still can't! All those Ps twist my tongue before I even get to the second line!
My garden's over abundance of peppers had me thinking of Peter Piper and his pickled peppers. I've pickled with peppers before, but never with the pepper being the star player in the jar.
I googled around and found this recipe. The simplicity of it and the good reviews made me want to give it a try so I did! I doubled the recipe and ended up with a slightly different amount than the recipe-so I'm sharing my doubled amounts.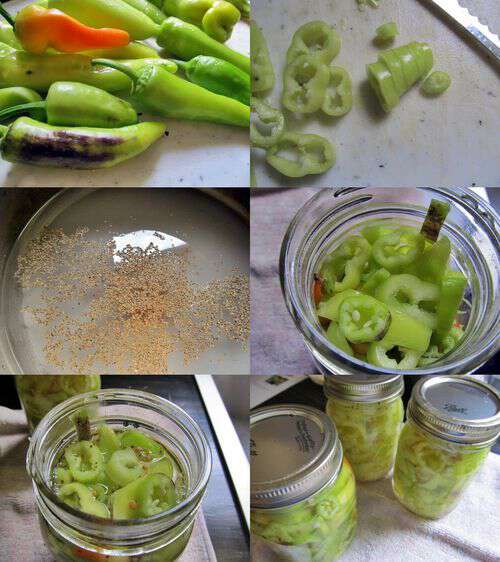 Sweet Pickled Banana Peppers
4 cups white vinegar
1 1/3 cup sugar
1 teaspoon mustard seed
1 teaspoon celery seed
5 cups of banana pepper seeded and sliced into rings
3 pint jars with rings and lids
Bring sugar, vinegar, mustard seed, and celery seed to boil in a large pot. While the ingredients are heating up sterilize your jars, rings, and lids.
Pack peppers into jars and ladle boiling mixture into jars-filling to 1/2 inch of the top of the jar. Place lids and rings on jars and tighten. Let pickles set at least 2 weeks before opening.
This old recipe uses a method of preserving that all modern canning books/experts will tell you is dangerous. If you don't feel comfortable using this method water bath the jars for 10 minutes in a water bath canner.
Tipper