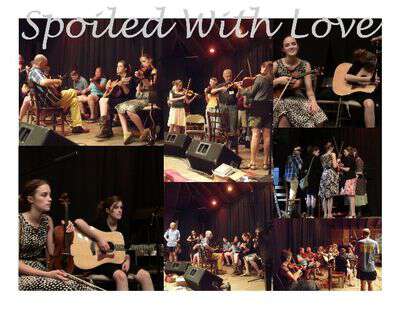 A few weeks ago I ran into a lady I hadn't seen in ages and we got to talking about what was going on in our lives. As we finished talking, she said she better git, she was going to babysit and didn't want to be late. She said she enjoyed staying with the little one, but he was awful spoiled. Then she said, "Oh don't get me wrong I love that baby to death-but I was spoiled with love not with getting my way."
Spoiled with Love. I've had that thought on my mind since the very minute the lady said it. Most of the time spoiled has a negative connotation to it. If someone is spoiled they are hard to be around-if something is spoiled it needs to be discarded. My friend taught me to use the word in a new way: Spoiled with love. The expression so fits how I was raised-and I believe it fits how we're raising our girls. Spoiled with love but taught to respect, to work, to help, and to be grateful.
This past week the girls were spoiled with love by an amazing group of people. Due to the generosity of an anonymous donor, Chatter and Chitter got to participate in the John C. Campbell Folk School's Dance Musicians Week.
Throwing 2 talkative teenage girls in the midst of a group of older musicians might not be some folks idea of fun-especially folks who've paid good money to be in the class. But the other students treated Chatter and Chitter so great!!! They interacted with them as equals-they looked out for them-and taught them more than I could ever tell you about.
The same can be said of the 4 Instructors: David, Naomi, Sue, and Peter. Not only did they teach the girls an unbelievable amount of material in one week-they poured out a boat load of confidence on the girls and made sure they had fun to boot.
Each night of Dance Musicians week the folk school holds a contra dance. It's a great feature of the week on two fronts: all those student dance musicians have dancers to play for and the community gets to hear what they've been learning while dancing up a storm.
It's hard to find words to express the joy the class brought to the girls, and to me as well. At some point in every night of dancing I'd find myself teary eyed as I watched a fantastic community of people shower my children with love.
By the end of the week, I was feeling downright silly as I tried to hide my tear rimmed eyes. I thought to myself "good grief you need to get a grip!" But as I slipped outside and looked at the distant mountains dressed in their green dress of summer with the sound of music and dancing feet in my ears I realized I was spoiled too. Spoiled with love from family and friends (including you!); spoiled with being born into these Appalachian Mountains I call home.
——————–
If you'd like to see some of what the girls learned, put your waltzing shoes on and go here.
Tipper
Appalachia Through My Eyes – A series of photographs from my life in Southern Appalachia.